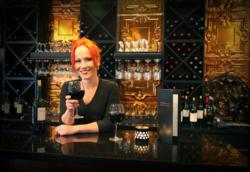 Miami, FL (PRWEB) May 24, 2012
Every year Key West comes alive for their biggest foodie event to kick off the summer with a lineup of events centered on the culinary highlights and competitions of our South Florida celebrity chefs. The 3rd Annual Key West Bacchanalia promises its continuation of being the only food, spirits and wine festival delivering the best to Key West in competitions, passion and let's not forget those delicious food and spirits. This year's festival has garnered the attention and participation of Celebrity Chef Adrianne Calvo of Chef Adrianne's Vineyard Restaurant and Wine Bar in Miami, the star of Maximum Flavor on NBC, The Food Network' Chopped and Fridays on Univision. The kind of food to expect from the star chef: the kind of flavor found at her namesake restaurant.
Everything about Chef Adrianne's VR&WB appeals widely and generously, the ambiance, the design, the friendliness of the staff, and of course, the food. Adrianne, as vibrant and innovative as her dishes are, so is she. She seems to be a mirror image of her creations, full of expression, dynamic, and unforgettable. There is that certain je ne sais quois, that you can't quite put your finger on about Chef Adrianne's VR&WB - it sure isn't its location. It may be its tranquil and romantic setting, or the abundance of food porn roaming the dining room, whatever the mystical veil is, Chef Adrianne Calvo brings it full circle with her very unique and endearing style of cheffage.
The gauntlet has been thrown and Friday June 8th will kick off the Celebrity Chef Cook-Off A.K.A. "Culinary Death Match!" Hosted at Hurricane Hole Restaurant, 5130 Overseas Hwy 1, Key West. Guests will be welcomed with a Rums of Puerto Rico cocktail prepared by a world famous mixologist and then another and then another …repeat! After that you will judge a 4 course dinner prepared by both star chefs competing side by side (you will be served total of 8 dishes) paired with worldly wines – a veritable "Culinary Death-Match" where all of us lucky enough to be eating there are the true victors. Cook-off competitors: Chef Adrianne Calvo and the local Celebrity Chef Tim Hadley of the Hurricane Hole will face off and you will be the judge.
Come mingle with celebrity judges, winemakers, tv crews, journalists, and eat and drink for a great cause. The event is benefiting the Darrell Gwynn Foundation and Darrell is also planning on attending!
Price: $220.00 per person (just a few seats left and then we are SOLD OUT!)
Rums of Puerto Rico Grand Tasting Village Saturday June 9th, 3pm-7pm Ricks Restaurant at 208 Duval Street Key West, FL 33040
Unlimited rums, spirits, wine, beer, BURGERS! Really, 'nuff said! The best Burger-Makers in Dade county challenge Monroe county for Burger supremacy while the guest nosh and vote. Celebrity mixologists, bartenders and authors give seminars while the Rums of Puerto Rico show you through liquid power why they do it better.
Price: $69 per person – Show your local id and get in for only $25 – this event always sells out so show up early.
Bulldogs Rum and BBQ featuring FIRST EVER TEAM KEY WEST VS TEAM MIAMI (Norman and Justin Van Aken vs Howie the Bulldog Kleinberg!) Saturday, June 10th Hog's Breath Saloon, Corner of Front and Duval, Key West, 11:30-2pm
Bring your bulldog to one of the most legendary hot spots in Key West. Watch Howie the Bulldog Kleinberg prepare you the best tasting BBQ in the world. This year Howie is challenged by Chef Norman Van Aken and Justin Van Aken! Chef Norman and Justin will represent Key West style – who will win – judge for yourself! And keep an eye out for Van Aken's new upcoming book – "My Key West Kitchen" coming out soon. These Masters will be grilling with the ultimate Certified Angus Beef. Pair this with unlimited Rums of Puerto Rico, George Dickel Tennessee Whisky and you just went to Hog's Breath Heaven!
Price: $50 per person – show your local id and get in(space limited) for $25
Please go to http://www.keywestbacchanalia.com for more info and restrictions.
Chef Adrianne's is located at 11510 SW 147 Avenue Miami, Fl 33196 for reservations please call (305)408-8386 or (305)408-8388 and follow Chef Adrianne Calvo on Twitter or Facebook.
Restaurant: http://www.chefadriannes.com/?page_id=13
Facebook: http://www.facebook.com/chefadrianne
Twitter: http://twitter.com/#!/ChefAdrianne