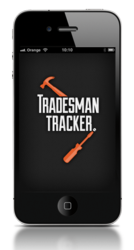 Available for both Android and iPhone Platforms
United Kingdom (PRWEB UK) 27 May 2012
Regardless of how much lives have been changed due to the introduction and influence of modern technologies, the need for traditional tradesmen will always remain. They are still very much a part of the modern society to carry out different tasks that are intended to make daily activities run a lot smoother and easier. Tradesmen are skilled and trained to handle jobs related to repairs, maintenance and other types of urgent tasks that require immediate attention. To find local tradesman is like finding immediate solution for many problems.
The reason why modern society cannot do away with skilled tradesmen is because they possess the required skills needed to handle jobs that ordinary people can't handle on their own. These professionals have the right education, training and apprenticeship that qualify them to perform vital and critical tasks. When one is able to find local tradesman, expect to get high quality service from a person who is not only skilled in the technical aspects but is also knowledgeable about current legislation's and regulations applicable to the services that he is providing. This is a very important consideration that a lot of people could easily overlook that's why many are often tempted to do repair projects on their own, only to get more problems in the end.
To find local tradesman in this modern age, people can use new technologies like Tradesman Tracker App. This free application can help find the right service provider for every specific need. People can take advantage of this very convenient tool if they have an iPhone or a smartphone. The search is localized so trust to get immediate help especially in times of emergency. To be able to get the right help, one has to identify the specific problem that needs attention. For better classification, here are a few common household problems that can be encountered in the future which can best be handled by skilled tradesmen:

Tradesmen are often called for damaged pipes. Over time, pipes are prone to get leaks and may burst any time. They also deteriorate as a result of ordinary wear and tear. When any of these things happen, they can create more problems in the property and have to be dealt with immediately.
It's always easy to overlook things that one doesn't often see. Drainage have to be cleaned regularly in order to avoid, or at least minimize, having problems with clogged drains. This task is often difficult and unpleasant for many people; thus, the need to find local tradesman to do the job.
Certain parts of the house, like the roofs, are more prone to damages simply because they are more exposed to extreme weather conditions and different types of natural and external elements like dust, dirt, insects and pollution. Services of local tradesmen are needed immediately for problems that concern the roof; otherwise, neglect for these problems can literally bring a house down!
There are still a lot more jobs that are best handled by skilled tradesmen. The good news is that finding one of them no longer has to take a lot time and energy. With the use of modern and convenient tools like Tradesman Tracker App, help can be on its way in no time at all.