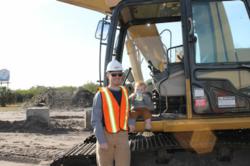 "What better way to surprise Dad than with a memory that he will cherish for the rest of his life," said Alisa Bennett, President. Playing in the dirt on a huge excavator is a gift that will be appreciated by Dads everywhere!"
Bradenton, FL (PRWEB) May 29, 2012
Does your Dad "Have it All"? Does he cringe when presented with the typical Father's Day gifts of cologne, a shirt or (God forbid!) a tie? If so, People at Play: The Heavy Equipment Experience, the first of its kind construction playground in the Southeast United States, has the perfect Father's Day Gift… Called "Diggin' Dad," it will give him the thrill of a lifetime operating a giant steel excavator and a great memory that he won't soon forget.
"Diggin' Dad" is a memorable adventure "playing in the dirt" on a huge, yellow hydraulic excavator at People at Play's "job site" located in Sarasota/Bradenton on Florida's beautiful Gulf Coast. The one-hour experience includes a safety and equipment orientation, machine time operating the excavator, a "Been There. Dug That." t-shirt, a 5x7 commemorative photo… and definitely no Necktie included. "Diggin' Dad" is priced at $269.00 + tax.
Gift certificates are available for the "Diggin' Dad Package" and other packages. Booking is available on select weekends, based on availability. Call for reservations and information.
People at Play is an experiential adventure program that allows participants to run heavy construction equipment such as excavators, skid steer loaders and bulldozers in a fun "construction site" environment. The entire experience is themed like a day on a construction site, where every participant has to "clock-in," wear a hard hat and a visibility vest. All participants are required to successfully complete a safety and equipment training orientation (in the job site trailer) prior to their time operating CAT excavators, skid steer loaders and bulldozers. All participants must be aged 18 and over. Individuals must pre-register and book their packages based on scheduled "work" days. For reservations and information call (941) 756-0886.
People at Play (the name takes it's cue from the universally recognized "Men at Work" construction signs) was created as a spin-off business by Jason and Alisa Bennett, owners of a site development and underground utility construction firm – Bennett Contracting, Inc., which is located in Bradenton, Florida. People at Play: The Heavy Equipment Experience allows individuals to live out their childhood "sandbox" dreams by operating earthmoving equipment in a fun environment. For more information please visit http://www.comeplayinthedirt.com or our Facebook page at http://www.facebook.com/peopleatplay or call (941) 756-0886.