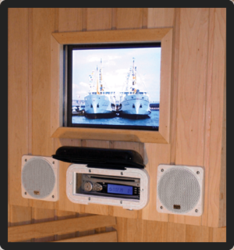 Sarasota, Florida (PRWEB) May 23, 2012
The largest Internet dealer for commercial and residential sauna and steam bath equipment Alpine Sauna has recently launched new sauna products. Three new sauna products include sauna entertainment systems, sauna water bowls with faucets and led lighting.
Entertainment Systems
If an individual wants to listen to music while sauna-bathing or catch part of the big game while in the sauna the Helo Entertainment Center can meet those needs. An industry first - Helo engineers have created an audio-visual system that has been designed to perform perfectly in high temperatures and humidity typical in a sauna application.
The new Helo Entertainment Center has a 15" LCD Flat Screen TV with marine-grade speakers and a remote control the size of a credit card. There is a DVD player for playing any number of DVD's, MP3's, CD's and VCD's. Other features include an AM/FM Stereo with TV tuner.
This new sauna entertainment system has been meticulously created for heat & moisture applications while having a super-easy installation through a complete prewired system.
Water bowl
The water bowl product offering from Alpine Sauna is an optional Deco glass water bowl with faucet installed in a sauna. This feature allows an individual to access water without exiting the sauna.
LED Lighting optic
LED Lighting systems can now be easily integrated into the custom backrests and water bowls of a sauna. LED lighting has many advantages including low electrical usage and the ability to be unaffected by moisture while creating elegant mood lighting.
Alpine Sauna & Steam
Werner Klimovitsch
Toll Free: 1.866.697.2862
Fax: 941.360.2956
Email: sales(at)alpinesauna.com
alpinesauna.com