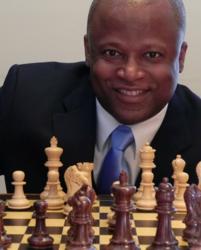 He's a living legend. I'm elated as his decision to come to Los Angeles and work with Train of Thought. It's a dream come true.
Los Angeles, CA (PRWEB) May 24, 2012
Chess master and Train of Thought founder, Damen Fletcher and the first Black International Grandmaster of chess, Maurice Ashley host a celebrity chess match, featuring Dorien Wilson (The Parkers) and LaVan Davis (House of Pain).
The event is free and will take place on June 2, 2012 at the Train of Thought Chess Club in Compton, CA. Ashley will play at least one match blindfolded with his back to the chess board - a feat few chess players have accomplished successfully.
Ashley made history when he became the first African-American International Grandmaster of Chess in 1999. Since then Ashley has been a spokesperson and advocate for chess playing and its role in developing positive character traits in the youth. Additionally, Ashley serves at the live chess commentator for ESPN, and his book, "Chess for Success" details his vision for utilizing chess to help at-risk youth.
Fletcher will take Ashley around to some of the 24 organizations Train of Thought services. Fletcher expressed a desire to introduce his students to someone who has not only inspired him, but who has made history. "He's a living legend", said Fletcher. "I'm elated as his decision to come to Los Angeles and work with Train of Thought. It's a dream come true."
Currently, Train of Thought services more than 500 students in the Greater Los Angeles area, the bulk of which are educational institutions and counseling programs. Through chess, Fletcher aids students in developing stronger critical thinking skills, making his students better test takers and more focused academic performers. Due to the academic gains in TOT participants, Fletcher is the recipient of a UCLA research grant to study the effects of chess players in children with behavioral challenges and struggles with substance abuse.
The study will conduct a randomized controlled pilot-test of the Train of Thought chess program developed by Fletcher. 300 participants (ages 12 to 17) referred to NCADD/South Bay for family preservation services will be randomly selected for this study. 150 of the participants will receive standard services from NCADD/South Bay. The remaining 150 will receive identical services, plus a Train of Thought 10-week, 10-session intensive chess enrichment led by experienced staff aimed at teaching personal discipline and logical problem-solving skills.
Due to these accomplishments, Fletcher was selected as one of the 2012 LAULYP 'Divine 9' award recipients. His service to the Los Angeles community was recognized on Wednesday, April 25th at the "To the Nines Celebration" at the Westin Bonaventure, Downtown Los Angeles.
About Train of Thought:
TOT aims to improve academic performance and instill a better attitude towards learning by bringing the social and educational value of chess to urban communities, leading to improved test scores and reduced dropout rates.