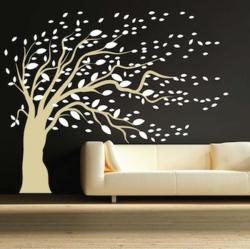 Tree decals can be installed in the matter of minutes & it will instantly transform any room.
Las Vegas, Nevada (PRWEB) May 25, 2012
When the time has come to give a room or a home a new look, the ideal decorating solution would be one that doesn't involve spending too much time, effort or money. A growing trend has emerged and it's becoming more popular each day: vinyl wall art. These amazing decals are an inexpensive, easy way to completely change, liven, or just spruce up any room.
When faced with the idea of redecorating a room, many people are overwhelmed by the endless choices they face. The latest design option for changing the style of a room is to use wall decals. Wall decals are graphics that are cut from self adhesive vinyl and because of this are more frequently being referred to as wall stickers. It's a highly creative concept to give a room a new look. Infinitely adaptable to satisfy any design scheme. vinyl wall decals are the best choice for the ever-changing decor of peoples home or office. Vinyl art makes changes simple and stress-free.
Just imagine being able to achieve the aspect of a custom painted wall mural without the high cost and time associated with painting. One great feature of vinyl wall decals is the ease at which it transforms any room into a unique space with the character and an atmosphere that reflects ones original taste. This can be achieved without messy paint or glue. The decals are self adhering to any smooth and dry surface. Made from the highest quality vinyl, the decals will remain beautiful for years. Should it however, be the time for a decor change or the kids grew out of their nursery stage, the decals can easily be removed and replaced without damage to the walls.
Helen Mansouri, graphic designer and founder of Trendy Wall Designs, started her company because she feels decorating should be fun, easy and affordable.
Trendy Wall Designs offers an extensive line of decal designs, guaranteed to satisfy the most demanding tastes. Visitors to the website can choose decals for specific rooms, themes and age groups, or get help designing their dream decal.
Mansouri suggests encouraging childrens visual stimulation through colourful shapes design packs, dinosaurs, balloons or any of the fun nursery designs in the nursery and kids room category. Let childrens vivid imagination run wild, turn their room into a nature wonderland, a space port, a plane or ballon filled sky, an animal lovers eden, or just let them pick or design their favorite playroom quote.
For anyone in need of a relaxing space all their own, let their nature inspired line of tree and branch designs mixed with soothing floral wall art turn any room into a haven of respite from the everyday grind. Sprinkling some spice on that dull kitchen wall is easy with the addition of a fun clock decal, original chalkboard or kitchen quote. One can be whimsical or formal, there is no creative limit when decorating with vinyl wall decals. Spruce up the living room by adorning the walls with a famous face or just add some pezaz with a intricate border. An inspirational or spiritual wall quote might be all that is needed to translate a personal touch to an office wall.
Trendy Wall Designs decals also adhere to glass and tile which makes turning a bathroom from ordinary to spectacular as simple as peeling and sticking the artwork to a wall or shower door.
Trendy Wall Designs offers a constantly growing array of decal choices. The design team updates the product line on a regular basis and remains at the service of the customer should help or advice be needed. Custom decals designed specifically for that special project are also available by contacting the design team.
The wall decals are made of the highest quality vinyl materials, ensuring lasting results and giving the appearance that the design has actually been painted on the wall, all at a fraction of the cost of custom painting.
For more information and to see trendy wall designs full line of dazzling wall decals designs, please visit their web site at: http://www.trendywalldesigns.com