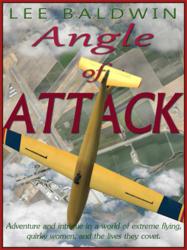 ... a rattling good ride...
- Soaring NZ Magazine
Santa Cruz, California (PRWEB) May 30, 2012
Lee Baldwin's latest adventure mystery novel, Angle of Attack, is now available for most popular e-readers: Nook, Android, iPad and Kindle.
Central to the novel is the botched 2003 Antwerp diamond robbery and a woman's lust for power, which set deadly traps for wrongly-convicted Cicero Clay, who must evade a corrupt parole system and fly a stolen WWII fighter to freedom.
In the words of one reviewer, "Lee Baldwin has captured the pace of James Lee Burke and the descriptive ability of John Steinbeck."
Set among the challenges of high-performance soaring, Mustang P-51 fighter aircraft, the world's most expensive diamonds and lovely, quirky women, Angle of Attack leads the reader on a path of interleaved mysteries. Who is the dead man on Clay's porch? Who tried to make Clay fall out of the sky? Who drugs Clay then slides into his bed late at night? Who stole his Parole Agent's diamond necklace? Baldwin weaves plot lines through a tale rooted in everyday realties, but raises the ante until the reader is pursued through night skies in a stolen warbird, trying to avoid disaster while heading for a place in history.
Visit Baldwin-Books.Com for places to buy, a plot teaser slideshow (no spoilers), Lee Baldwin author bio, and other background.
Angle of Attack leads the reader through clandestine California grow houses and the inner workings of gangsta networks, whose tendrils of corruption reach within the criminal justice system.
Typical adventure-mystery novels are plot-driven. Based on historical events, Baldwin's unusual story line is sparked by the tangible and personable characters he invents, the relationships they develop, and the hidden desires they must reveal to reach their goals. The action turns on character fears, loves, forgotten pain and explosive lust, all set in a tapestry of untold wealth and the constant threat of violent death.
About the Author
Lee Baldwin is a writer of adventure fiction and humor in Santa Cruz, California. A glider pilot and amateur race car driver, Baldwin derives from these and other sports the key challenges that make his action scenes realistic.
Media Contact:
Lee Baldwin
Author(at)baldwin-books(dot)com
650-759-0316
###