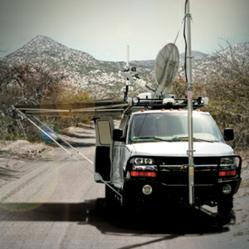 This event will provide a unique chance for government agencies to get a firsthand look at the latest technologies, and partake in one-on-one discussions about solutions tailored to their individual needs.
McLean, VA (PRWEB) May 24, 2012
MorganFranklin Corporation, a business and technology consulting firm that delivers national security, financial management, and performance improvement solutions to government and industry clients, announced that it will host a National Security Technology Showcase on Wednesday, June 6, from 10:00am to 4:00pm at the company's office in Waldorf, Md. The event will feature 15 of the technology industry's top vendors, as well as three communications vehicles, which will be open for hourly tours.
The diverse group of technology vendors will display their latest advances and capabilities by demonstrating end-to-end satellite-based technology, communications and video on the move, high-definition (HD) video, radio over IP (RoIP), network, and ruggedized storage solutions. Real-time on-the-move vehicle tours will take place every hour, and the vendors will provide hands-on discussion of state-of-the-art technology including antennas, modems, network monitoring, bandwidth, local area network (LAN), storage area network (SAN), and handheld radios.
"MorganFranklin is honored to open the doors of our Waldorf integration and maintenance facilities to host this impressive array of technology leaders," said Robert Blake, managing director of C4ISR solutions within MorganFranklin's National Security Solutions division. "We are excited for the opportunity to showcase the latest innovations from a team of experts who support national security missions every day. This event will provide a unique chance for government agencies to get a firsthand look at the latest technologies, and partake in one-on-one discussions about solutions tailored to their individual needs."
Solutions from the following companies will be on display during the National Security Technology Showcase:

4G Communications, Inc. is a system integrator that specializes in program and project management, RoIP, enhanced 911 (E911) services, tower services, wireless systems, and networks, and recently added a training division. 4G will showcase the WAVES system, which connects and extends communications systems, allowing users with smartphones, PCs, and other mobile form factors to be part of an organization's broader communication strategy and fabric.
AvL Technologies will display its latest small to midsize flyaway satellite systems, which are suitcase and carry-on size to allow for rapid deployment anywhere in the world.
Cisco will demonstrate the next generation of routers and switches, to include its latest ISR and 5900 series mobility routers.
Comtech EF Data will highlight its latest-generation 5650A satellite modems with carrier-in-carrier and spread spectrum capability, which allow for maximum utilization of satellite bandwidth and increased data throughput.
Cybernetics specializes in the design and manufacture of high-performance disk, tape, and virtual tape storage and backup solutions. Cybernetics will exhibit its ruggedized SAN solution and data center high-availability SAN solution.
CyTech Communications will showcase its mobile 3G/4G communications platform with satellite backhaul capability.
Dell will showcase its 530 series servers, Force 10 series switches, and SAN solutions. The 530 series server features the latest generation of processors and high-capacity onboard storage.
Digital Sandbox has created a flagship risk management analytic platform, developing and producing targeted risk management solutions for the public safety community.
General Dynamics SATCOM will display COTM antenna solutions, including its low-profile MD-17LP antenna system that is suitable for both military and commercial operations.
iDirect will demonstrate its Evolution series modem solution set, consisting of 8350s and X3 and X5 series modems. These are the cutting edge of TDMA architectures, and process up to 150 Mbps.
Kratos will present its NeuralStar solution, which has been proven in some of the world's most rigorous, security-conscious environments, and is depended upon 24/7 by Department of Defense (DoD), intelligence community, and civilian agencies. Enterprise customers as diverse as the Defense Information Systems Agency (DISA), Missile Defense Agency (MDA), and Microsoft rely on its mission-critical monitoring capabilities.
QLink provides fully integrated mobile wireless communications, digital video, and computational systems that, in real time, locate mobile assets and move data bi-directionally between those mobile assets and central office systems.
RELM Wireless will showcase the latest in small, lightweight P25 compliant land mobile radio (LMR) systems. These radios assure uninterrupted interoperability across frequencies, different groups of responders, and variations in terrain.
Rockwell Collins will demonstrate its low-profile SATCOM on-the-move antennas and rapidly deployable fixed antenna systems.
SES Government Solutions offers robust and secure satellite-based communications solutions. Supported by its fleet of 50 satellites offering comprehensive global coverage, SES Government Solutions offers highly reliable fixed and on-the-move capacity. For its demonstration, SES will be providing satellite bandwidth.
To learn more about the MorganFranklin National Security Technology Showcase or to register online, visit http://www.morganfranklin.com/TechShowcase.
# # #
About MorganFranklin
MorganFranklin is an execution-oriented business and technology solutions company. We deliver program and mission support services and C4ISR solutions to military, homeland security, and intelligence customers. Our mission is to harness the power of people, processes, and advanced technology to help clients anticipate, manage, and overcome dynamic national security challenges. With fast access to diverse expertise—from IT operations to intelligence analysis—we look at challenges from every angle to satisfy immediate needs and develop long-lasting and sustainable business and technology solutions. Learn more at http://www.morganfranklin.com.