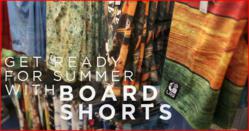 "I really think that next season the majority of board shorts are gonna be like this."
Annapolis, Maryland (PRWEB) May 24, 2012
Over the years very little has changed with board shorts aside from the cut, the addition or subtraction of netting, and perhaps holes in the pockets to drain water and sand. All that has been true up until now, just this week Pure Board Shop has introduced their Franklin Hybrid Shorts, which they are calling amphibious shorts. "The idea behind these board shorts is you can wear them as walk shorts or board shorts," Josh Menocal, the manager and buyer at Pure Board Shop, informs us.
After hearing this you may feel as if you can already wear board shorts as walk shorts, so this added attraction might not seem like a big deal. With these shorts there are a few added features which go along way. To begin with, the Pure Hybrid shorts feature belt loops, this is good for two reasons. First off belt loops allow you to get a better waist fit with your shorts as opposed to the string laces that usually come with standard board shorts. The belt loops on the shorts also just give off an overall more stylish and mature look. Another feature of the Hybrid shorts is the zipper fly. "The zipper fly on these shorts are unquestionably better than the Velcro fly normally found on board shorts," Josh comments, "Velcro flies are so annoying, they all wear out eventually, and that sound is so annoying!"
All the employees at Pure Board Shop are stoked on the new Hybrid shorts and are confident they're going to do well this summer. "I really think that next season the majority board shorts are gonna be like this," Josh predicts. The Pure Franklin Hybrid shorts are available at Pure Board Shop right now.