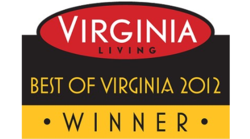 Nest Realty was founded on the principle that excellent customer service should always be the number one priority during any real estate transaction. -Keith Davis, Nest Realty
CHARLOTTESVILLE, Virginia (PRWEB) May 24, 2012
Nest Realty, a full-service, boutique real estate brokerage firm specializing in residential and luxury properties throughout Charlottesville and Central Virginia, today announced the readership of Virginia Living voted it one of the top three real estate companies in the Central Virginia region. The first-ever special issue from Virginia Living, the "Best of" list features the results of more than 10,000 votes in 400 categories.
Supporting Quotes:
Keith Davis, Realtor, Nest Realty
"The Virginia Living 'Best of' nomination is an outstanding recognition, especially because it is a readership poll. Nest Realty was founded on the principle that excellent customer service should always be the number one priority during any real estate transaction. I'm pleased to see the traction our team has made in the Central Virginia marketplace thus far, and look forward to continuing to promote engagement and transparency in all client interactions."
Jim Duncan, Realtor, Nest Realty
"Nest Realty fosters a culture of innovation. The brokerage leverages the latest technology available to make our clients' experiences as efficient and informative as possible. We are honored to be included in the 2012 Virginia Living "Best of" results, and will continue to look for ways to better the real estate buying and selling process through cutting-edge technology applications."
Supporting Resources:
-Take an interactive tour of the Charlottesville real-estate market
-Read the Nest Realty Q1 2012 Market Report
-Meet the Nest Realty experts
RSS Feeds: Subscribe for the latest Nest Realty news
Tags: Nest Realty, Central Virginia Real Estate, Virginia Real Estate, Charlottesville Real Estate
About Nest Realty
Founded in 2008, Nest Realty is a full-service, residential real estate brokerage specializing in residential and commercial properties throughout Charlottesville, Central Virginia, and Hampton Roads. Through a strong focus on technology, customer commitment, and the region's most innovative and focused marketing strategies, Nest Realty has established itself as a top choice for buyers and sellers of residential and commercial property.