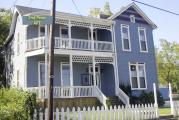 Working with Horton has really given me the freedom to explore my talents and be innovative with my trade.
Nashville, TN (PRWEB) May 25, 2012
With the acquisition of a centrally located downtown Nashville office, Horton Properties has been renovating the building inside and out. To help coordinate and manage the remodeling process Horton has brought on Martin, a skilled craftsman. The office located at the corner of Rosa L. Parks Blvd. and Commerce Ave., directly behind Hume-Fogg, was constructed sometime in the early 1900's. Martin is in charge of adding a creative and distinctive aesthetic to the building's already vintage design.
Martin has played an integral role in the overall development of the Horton office space. This includes leading efforts to install the building's hardwood floors made up of reclaimed oak taken from a Civil War-era tobacco barn. He has also enhanced the building's front and rear facades with a colorful scheme including shades of green and Horton purple. Most recently Martin has been focusing his handiwork on creating a more functional office interior while remodeling space for a new coffee shop. The coffee shop will be located in the front of the building.
"Daniel is very skilled in a variety of different crafts from carpentry to painting," said Horton Properties leasing manager Pat McCombs. "His custom paint job has really made the building's exterior pop with creativity. There is a heavy amount of traffic going past our office at all times of the day; we are happy to have a professional on hand who has the capability to make our office stand out from the rest."
Not only is Martin in charge of renovations at the Horton office, he also works alongside the Horton Properties maintenance team addressing the repair and maintenance needs of their tenants.
"I enjoy working with my hands and using raw materials to create something with a practical use and function," stated Martin. "Working with Horton has really given me the freedom to explore my talents and be innovative with my trade."
Horton Properties offers an array of repair and maintenance services for homeowners and is also available for light commercial work. In addition they also have a dynamic collection of commercial and residential rental properties with character in convenient locations.
For more information on Horton Properties services or rental availabilities contact them at, 615-292-8642.