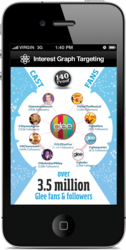 San Francisco, CA (PRWEB) May 24, 2012
140 Proof, the leading social ad service connecting over 500 blue-chip brands with highly targeted audiences on leading social apps like TweetCaster, Echofon and Plume, today announced the launch of 140 Proof Platform for Partners. 140 Proof Platform enables select networks, publishers, agencies and technology providers to use the company's Interest Graph Targeting™ and App Network to deliver rich, targeted ads with social actions.
Jumptap, the leader in targeted mobile advertising, is the first mobile ad network to take advantage of the open platform and will use 140 Proof to offer social advertising to its large base of customers. Other foundation partners include Celtra, the leader in rich media advertising and analytics for mobile, and OneLouder, the developer of TweetCaster and other socially powered apps.
Publishers can use 140 Proof's Platform to reach the followers of influential Twitter accounts – including their own – and sell first-to-market social ad programs wherever tweets or newsfeed updates appear, on the millions of sites and apps connected to Twitter, Facebook and other social services. Agencies and technology companies can also partner with 140 Proof to add highly effective social advertising to their product offerings and services through automated APIs and custom-tailored business programs.
"For over three years we've helped brands and agencies reach social users with targeted paid media at scale, and this announcement will only expand those capabilities," said Andy Scott, Chief Revenue Officer at 140 Proof. "Our platform foundation partners are already doing incredible things, and we are fortunate to be launching with these industry leaders. Jumptap is the established leader in targeted and data-driven mobile advertising so it's an obvious fit. We've been working with OneLouder for two years and together have identified tremendous joint growth opportunities that 140 Proof Platform will make happen. Celtra's rich media and analytics on the 140 Proof Platform will bring a fantastic set of social-powered rich media capabilities to market that will delight advertisers and end users alike."
"140 Proof's unique approach to targeted social advertising is an excellent complement to Jumptap's current mobile and social offerings. Together we provide advertisers a comprehensive and effective way to reach their target audiences using social media on mobile," said Paran Johar, Chief Marketing Officer at Jumptap. "With millions of consumers accessing social media through their mobile devices, and with data now available for driving relevancy in mobile, advertisers have the perfect tool kit for mobile social media success."
Brands are racing to reach consumers on social via paid media and 140 Proof gives them a simple and effective on-ramp for doing so. A recent Advertiser Perceptions Survey described brands' paid media budget shift to social as "explosive." 140 Proof delivers sharable ads to users at the top of their feeds from Twitter and other socially connected services. 140 Proof's Interest Graph technology matches ads to audience persona groups, which the company develops based on public social cues such as who people follow and keywords in their feeds. 140 Proof ads reach over 200 million unique users in the U.S. through the company's network that includes 50 of the world's top online, smartphone and tablet apps and sites for social.
"We're excited to extend the reach and capabilities of Celtra's rich media ad units via 140 Proof's targeting and social app network," said Mihael Mikek, Chief Executive Officer of Celtra. "Marketers depend on our rich media ads to deliver great brand experiences and integrating Celtra's award winning Ad Creator tool suite with 140 Proof's open social platform will result in powerful new capabilities that take our combined offerings to the next level."
"OneLouder creates engaging social apps serving millions of consumers and relevant ads are a key component of that experience going forward," said Evan Conway, President of OneLouder. "By expanding our partnership with the 140 Proof Platform, we expect to deliver powerful custom ad programs that benefit consumers and advertisers."
About 140 Proof
140 Proof is the leading Social Advertising service, providing brand advertisers a simple and effective way to reach millions of consumers primed to discover and share. The company delivers native, sharable ads to users above their information feeds from Twitter, Facebook and other socially connected services. 140 Proof's Interest Graph targeting uses stream-analysis technologies to match socially relevant ads to target audiences based on public cues like who they follow and keywords in their feeds. The solution is Native — optimized for social feeds and additive to the user experience, providing unique benefits for advertisers while maximizing revenue for partners, enabling them to provide compelling social sites and apps to consumers on their web, smartphone and tablet devices. Social is everywhere — 140 Proof is headquartered in San Francisco and has additional field offices in New York, Los Angeles, Chicago and Detroit. To learn more visit: http://140proof.com and follow @140Proof on Twitter.
About Jumptap
Jumptap is the leader in targeted mobile advertising. Reaching 107 million mobile users in the U.S. and 156 million mobile users worldwide, Jumptap uses its extensive technology portfolio, as well as industry-first partnerships with third-party data providers, to understand mobile audiences better than any other ad network and provide intelligent targeting with scale. Through its large network of premium publishers and apps, and constant campaign optimization, Jumptap delivers the best ROI for advertisers and highest yield for publishers and developers. Jumptap has pioneered mobile advertising privacy standards and is committed to unlocking mobile opportunities for all parties through its ongoing industry research, such as its Understanding Mobile Audience series and monthly MobileSTAT report. Visit http://jumptap.com or check out Jumptap's latest ads at http://jumptap.com/gallery.
About Celtra Inc
Celtra offers the most flexible and easy-to-use platform that enables scalable, rich media mobile advertising across native apps and the mobile web on the most popular device platforms. The company's AdCreator lets advertisers easily create, distribute and measure rich media mobile display advertising. AdCreator offers unmatched control for creative campaign execution, cutting-edge ad formats and unified metrics to track and optimize campaigns. Celtra's ads maximize reach because they can run across top mobile ad networks, thousands of premium publishers and DSPs. Leading brands including Adidas, Paramount Pictures, Pepsi, Starbucks, Sprint, Starwood Hotels and Resorts, Wrigley and Volvo have used Celtra's ads. For more information, visit http://www.celtra.com and follow @CeltraMobile on Twitter.
About OneLouder
OneLouder is an emerging mobile app developer focused on simplifying and organizing social content on mobile devices. The company powers a wide range of socially-powered apps including TweetCaster, the world's #1 third party Twitter app, FriendCaster, SportCaster, ChannelCaster, BaconReader, and 1Weather. For more information please visit http://www.onelouder.com and follow @OneLouderApps on Twitter.