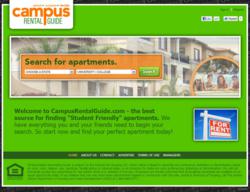 ... an original, niche market solution that rivals the more well-established housing search sites.
Chicago, IL (PRWEB) May 24, 2012
Web design company BIT Studios announces the launch of CampusRentalGuide.com, a website that caters to both students looking for accommodations and property owners with off-campus rentals. With its user-friendly interface, the web design lets students quickly conduct searches based on geographic area and college inputs. The site search generates suitable apartments with detailed descriptions from its database.
While deceptively simple from the user's perspective, the unique nature of the website's back end is technically complex.
The client required BIT Studios to develop a web based application that delivers detailed property listings to match specific needs entered by the site visitor. Search results had to include in-depth descriptions, photos, maps, and more. The site owners also wanted to allow users to chat with property representatives without leaving the site, do side-by-side apartment comparisons, and share favorites with friends.
BIT Studios President Jeffery Thompson says the size and difficulty of the project presented a unique opportunity for his web development team to tackle and overcome some tough challenges. The site needed to accommodate several different user groups, reports and integrations with third party systems. And to balance the complexity of the project with the budget constraints, Thompson says they first had to prototype the user experience design and work through the unknowns.
The result is an original, niche market solution that rivals the more well-established housing search sites. The project showcases BIT Studio as a mature and respected web development company.
About BIT Studios
BIT Studios is a web design and web development company based in downtown Chicago. Since 1990, businesses have relied on BIT Studios for sophisticated web design, custom web development, programming, SEO, online marketing and conversion optimization. BIT Studios serves clients locally and nationally.