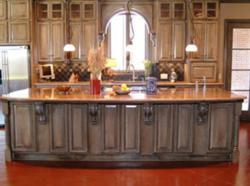 The enCOUNTER system produces consistent, stunning results across a wide variety of applications.
Oklahoma City, OK (PRWEB) May 28, 2012
Countertop design has become one of the most important elements to a kitchen or bath remodel. It is a crucial component to creating visually stunning, stylish spaces that increase a home's value. Concrete countertops have become increasingly popular in recent years thanks to their amazing versatility coupled with their unmatched strength and durability. The industry leader in concrete countertop systems is the enCOUNTER system, developed by Doug Bannister to produce consistently beautiful results across a wide variety of applications. Future training dates are fast approaching, with a hands on, complete enCOUNTER system training course scheduled for July 20, 2012 in Oklahoma City, Oklahoma.
The enCOUNTER system is an entire product line dedicated to concrete countertops. It includes factory blended concrete mix, color, sealant and form choices. These products can all be used together, making the enCOUNTER system a simple, easy way to produce consistent, stunning results. The strength of enCOUNTER countertops is also top of the line. enCOUNTER reaches strength of 8,870 psi in 28 days, nearly three times the strength of regular concrete. enCOUNTER is so versatile that it is being used across the country for both pre cast, and cast-in-place applications. When utilizing Thin Wall Technology the mix reaches 13.400 psi, which is ideal for casting vessel sinks or even 3⁄4" thick panels as large as 4' X 8'.
Doug Bannister, a seasoned concrete professional, designed the enCOUNTER system to eliminate concerns about countertop cracking and staining, while providing countertops that could be finished easily. enCOUNTER concrete countertops do not crack or warp because their unique, factory blended concrete mix requires only a small amount of water to finish well. They also do not stain because they are sealed with the industrial grade enCOUNTER system concrete sealers, enPOXY and/or enSPARTIC. Doug also developed Thin Wall Technology to allow system users to cast "smooth as glass" sinks and panels.
A hands-on training session in using the enCOUNTER concrete countertop system will take place on July 20, 2012 in Oklahoma City, Oklahoma. To find out more information about this unique, industry leading concrete countertop system and future training dates, visit http://www.encountertop.com