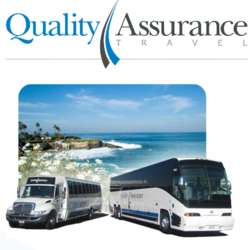 Best Print Graphics' full-coverage tour bus wraps are colorful, eye-catching, vibrant and make quite an impression—giving your product unparalleled exposure
Santa Clara, CA (PRWEB) May 24, 2012
Quality Assurance Travel, a family-owned San Jose charter bus company has now partnered with Best Print Graphics, a company that specializes in signage and posters. Together the two companies will help customers advertise their businesses and events through the use of bus wrap advertising. Whether the event needs a ski bus to experience a thrilling ski trip, transportation to area attractions, Disneyland or all points beyond, Quality Assurance Travel can get people where they want to go.
"Best Print Graphics' full-coverage tour bus wraps are colorful, eye-catching, vibrant and make quite an impression—giving your product unparalleled exposure," Art Moreno, of Quality Assurance Travel, said. "In fact, studies show that more than 90 percent of people take notice of the messages displayed on tour buses, which also have the highest unprompted recall of any out-of-home ad media."
Quality Assurance Travel provides charter buses for different purposes, such as airport transfers, church groups, conventions, corporate and non-profit events, parties and school trips. Its fleet consists of buses ranging from the Land Yacht, which can carry 18 passengers, to the 56-passenger Coach 2008. Now, aside from bringing customers to their destinations safely and comfortably, the company can also provide them with an advertising service that works. Customers can rent the entire bus for their ads and signage, or just a portion of it. Moreover, the bus wraps are Earth-friendly, made from 100 percent recycled materials.
"More and more of our clients have discovered the extraordinary value and benefits of wrapping tour buses with their company name and promotional information," Moreno added. "All you have to do is sit back, admire your amazing traveling ad and watch your profits grow while your ad budget shrinks."
For more information about bus wrap advertising on Quality Assurance Travel's coaches or mini-buses, or to find out more about the tour and travel services offered, call 408-885-1040 or view the company on the web at http://www.qualityassurancetravel.com.
About Quality Assurance Travel
At Q.A.T, its experts know how much is riding on a client's ride to a chartered destination. Wherever customers and their friends, employees, guests or co-workers need to go in the Bay Area--a concert, baseball game, convention or casino, ski trip, the airport, a party or sports stadium--the bus charters of Quality Assurance Travel ensure they get there directly, safely and comfortably. The company serves bus charter customers in the San Francisco Bay Area, San Jose, Silicon Valley, Santa Clara, Santa Cruz, East Bay, Marin County and Monterey.