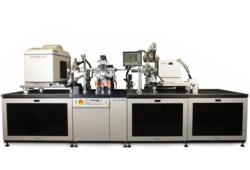 The Woodlands, TX (PRWEB) May 25, 2012
Rigaku Americas Corporation today announced that the Department of Molecular Biology, Cell Biology, & Biochemistry at Brown University has chosen the Rigaku Ultimate HomeLab macromolecular crystallography diffraction system, equipped with a BioSAXS-1000 small angle X-ray scattering (SAXS) system, for Brown University's structural biology center.
The purchase was funded by the generous support from the Office of the Provost and the Office of the Dean of the Alpert Medical School of Brown University. The structural biology center at Brown University is currently comprised of three faculty members, with additional faculty to be hired in the near future. It is being equipped not only with the new macromolecular crystallography diffraction and SAXS systems, but also with an 850 MHz NMR spectrometer with a cryoprobe to be delivered in November, 2012. A newly hired facility manager will ensure that all instruments are maintained to their highest quality and performance standards.
At the core of this system is the Rigaku FR-E+ SuperBright X-Ray source, a third generation true microfocus rotating anode generator, engineered to provide the highest power in a small X-ray beam.
The configuration will also include a Saturn 944 HG CCD detector - optimized for fast data collection for macromolecular crystallography, a VariMax HF Confocal X-ray optical assembly with an OpticAlignment computer-controlled alignment system and a BioSAXS-1000 Kratky SAXS camera system, which is specifically designed for scattering studies on protein solutions.
Commenting on the choice of Rigaku, Rebecca Page, Associate Professor of Biology at the Department's Center for Genetics, Genomics and Proteomics, explained, "We selected this system because it is the most powerful home source system available for both macromolecular crystallography and SAXS and will be the only one of its kind installed throughout the US "
The new instruments will also be available for outside users.
Catherine Klein, President of the Life Sciences Division at Rigaku, elaborated that, "what excites Rigaku about the new center is Brown's desire to include SAXS in their structural biology workflow. Having the Rigaku Ultimate HomeLab with the BioSAXS-1000 will allow Brown to take advantage of the complementary nature of macromolecular crystallography and SAXS to further the research goals for the new center. We look forward to the installation of these instruments and working with the Brown scientists to push the envelope of the mutual benefits of protein crystallography, SAXS and NMR."
The new system will be used for high-throughput protein crystal screening and data collection and also for performing small angle x-ray scattering experiments. The ability to carry-out SAXS measurements rapidly at home is a key advantage of the new system and will open up new areas or research.
About Brown University
Located in historic Providence, Rhode Island and founded in 1764, Brown University is the seventh-oldest college in the United States. Brown's vibrant, diverse community consists of 6,000 undergraduates, 2,000 graduate students, 400 medical school students and nearly 700 faculty members. It is an active, vibrant research community, typically receiving ~150-180 million in research dollars per year.
Rigaku—Leading With Innovation
Since its inception in Japan in 1951, Rigaku has been at the forefront of analytical and industrial instrumentation technology. Rigaku and its subsidiaries form a global group focused on life sciences and general purpose analytical instrumentation. With hundreds of major innovations to their credit, Rigaku companies are world leaders in the fields of small molecule and protein crystallography, X-ray spectrometry and diffraction, X-ray optics, as well as semiconductor metrology. Rigaku employs over 1,100 people in the manufacture and support of its analytical equipment. Its products are in use in more than 70 countries—supporting research, development, and quality assurance activities. Throughout the world, Rigaku continuously promotes partnerships, dialog, and innovation within the global scientific and industrial community.
###