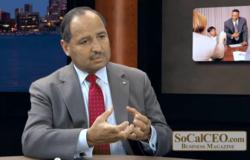 Ultimately, the decision will be made by the voters
Corona, CA (PRWEB) May 30, 2012
City of Corona Mayor Eugene Montanez recently delivered his state of the city address, emphasizing the positive changes facing the area with the slogan, "Corona Rocks!". Mayor Montanez spoke about why the City of Corona continues to grow, even in this economy.
The city of Corona lies about 45 miles southeast of Los Angeles in western Riverside County. It encompasses 39.2 square miles, and has been designated by the FBI as one of the safest cities housing a population of around 150,000. When asked about attributes intrinsic to Corona's success, Montanez conceded a great deal is due to location: "We are the closest city in Riverside County to Orange County…we're at the intersection of the 91/15 freeway, so we're a great transportation hub." However, any real estate professional will agree, it's not only the location of the property that matters, it's what's done with it. That being said, Montanez reports Corona's focus on a business-friendly environment, and utilizing the city's location as an ideal place for manufacturers to set up shop. "Over the years we've tried to be very business-friendly; very proactive in keeping businesses, attracting businesses and helping businesses grow…We try to make sure that when a business is locating in Corona that they feel welcome." Montanez went on to describe the city's mentality of 'Team Corona' when interacting with new businesses, in which all public departments involved are in open communication to ensure the smoothest transition for a company to the city.
Despite Corona's ideal location near the 91/15 junction, the city has plans to further improve the transportation capabilities and flow of traffic by expanding the 91 freeway. Montanez confirmed the final funding for the over $1.2 billion project. "I think the economic impact of improving the freeway is a huge, huge benefit for the city and the Inland Southern California area because…it really helps businesses see that moving to this region—moving to Corona specifically—is a great business move." Some of the benefits of expanding the freeway include the reliability of companies' employees getting to work on time, as well as their goods arriving to their destinations on time. "It keeps everything moving. I think as long as commerce is moving, people feel much more secure."
The shortage of jobs and the lack of work available are some of the most prevalent reports around the Inland Southern California region. When driving through Corona however, the Mayor claims to see many 'now hiring' signs outside of businesses. On top of that, most of the positions in need of being filled include high-skilled, high-paying career-type jobs. One way the city has answered the call for more skilled labor is by forming partnerships with many of the local colleges and universities. With over 32 universities nearby, Corona has tapped into their varying strengths to prepare students for work in the surrounding area. "We try to utilize what they are specializing in for a lot of our local companies," Montanez called attention to Norco College, which a local manufacturer has routinely considered an applicant pool for new employees. On top of attracting new businesses to locate in Corona, existing companies project growth and expansion as well. For example, Monster Energy just recently purchased a 76,000 square foot office building, and the company already believes they're going to outgrow it quickly.
Montanez stated "The city of Corona also has plans for annexation of the Temescal Valley area". This would add over 15 square miles and more than 26,000 residents to the city.
He went on to say "Ultimately, the decision will be made by the voters, but we think this is a scenario where everybody wins. The residents there will gain local control over their neighborhoods and they'll have easy access to city hall and all our city services."
Corona will benefit by having room to grow and create more jobs by increasing the area for industrial and manufacturing facilities. That will keep more of our residents at home and off the freeways.
For More Information Contact:
Darrell Talbert
Economic Development Director, City of Corona
darrellt(at)ci.corona(dot)ca(dot)us