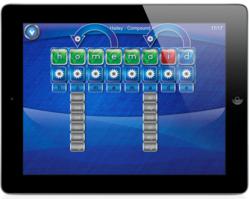 This app goes beyond spelling practice to actually teach and connect a tremendous amount of educational content in small manageable bites.
Edmonton, Canada (PRWEB) May 24, 2012
Pyxwise Software is pleased to introduce the upcoming sequel to their award winning Simplex Spelling series. Simplex Spelling Phonics 2 continues to teach another full year of spelling, reading and phonics instruction with a new focus on how syllables affect the way we speak, read and spell. Simplex Spelling takes the complexities and often seldom known and misunderstood rules of the English language and presents them in a simplistic and easy to understand manner. Students will quickly master many of the critical skills required to establish reading and spelling fluency including phonological and phonemic awareness.
The English language is often considered to be overly complicated and full of too many rule and phonetic exceptions, causing it to be difficult to learn. However, English does follow specific phonetic patterns along with a number of spelling rules that are often misunderstood or are taught incorrectly causing confusion and frustration for students and children. By using a well designed phonics program combined with properly taught spelling rules, the vast majority of words in the English language can be taught using a systematic approach. The Simplex Spelling approach to learning English is far more effective than using flash cards in an attempt to memorize the more than one million words in the English language.
In addition to taking a systematic approach to teaching phonograms and spelling rules, Simplex Spelling wraps up this wealth of information in a beautifully simplistic interface that provides only the information that students need when they need it. Pyxwise's signature "reverse phonics" system combined with our contextually relevant spelling rules is like having a personal spelling coach working with every student on each word.
Thousands of copies of Simplex Spelling have been purchased and used in the classroom by teachers and schools, and teachers have commented that the Simplex Spelling approach to literacy is demonstrating dramatic results with their students. It has been effective with students of all types including struggling students, children with special needs and those learning English as a second language.
Carolina Nugent, an expert in early childhood education and Director of Education for the educational app store KinderTown, states "Simplex Spelling Phonics 2 is a continuation of the amazing phonics series created by Pyxwise Software. Kids learn through supportive self-correction, short teaching moments and applicable lessons that pair well with their educational experiences. This app goes beyond spelling practice to actually teach and connect a tremendous amount of educational content in small manageable bites. The line of Simplex Spelling apps are favorites of KinderTown reviewers, parents, teachers and kids."
The Simplex Spelling series continues to provide exceptional tools that help students to learn the English language. It will really help those students that require that extra bit of spelling and reading practice over the summer.
Device Requirements:

iPhone 3GS, iPhone 4/4S, 3/4G iPod touch and iPad
Requires iOS 4.0 or later
Universal Application
115 MB
Pricing and Availability:
Simplex Spelling Phonics 2 Syllables will be available on Friday May 25th for download on the App Store as a part of the Moms With Apps App Friday event. It will be available at the low introductory price of $0.99 (regularly $4.99) in celebration of our launch. In addition Simplex Spelling Phonics 1 and Simplex Spelling HD will also be on sale for $0.99 for the Moms With Apps event. At Pyxwise we strive to keep improving the quality of our products and we are pleased to also announce the 1.7.2 update for Simplex Spelling HD has just been released and incorporates a number of new improvements.
Evaluation copies of our Simplex Spelling apps are available upon request for educators, SLPs, OTs, reviewers and teachers working with technology integration. When requesting an evaluation copy, please indicate the educational institution represented along with the type of students you work with, such as grade level, ESL students, or children with special needs.
Pyxwise Software Inc. is an award winning independent developer of family friendly educational software. It was co-founded by Craig Welburn B.A.Sc, B.Sc. and Lisa Welburn Ph.D. in 2011. The Pyxwise series of applications can be found on the App Store worldwide by searching for 'Pyxwise Software Inc.'. Copyright (C) 2011 Pyxwise Software Inc. All Rights Reserved. Apple, iPad, iPhone and iPod touch are registered trademarks of Apple Inc., registered in the U.S. and other countries. App Store is a service mark of Apple Inc.