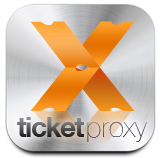 TicketProxy.com's founding team...decided that the much disliked service fee should be stricken from their business model.
Denver, CO (PRWEB) May 24, 2012
Justin Bieber concert tickets just went on sale and simultaneously sold out. Now your only option is a secondary market; but even the well known sites add a service fee of 10% to 30% to an already inflated price. Denver-based startup company, TicketProxy.com, has set out to eliminate services fees for the benefit of event goers from Los Angeles to Montreal.
When TicketProxy.com launched in January of this year, they had a single mission: provide a central listing of resale tickets to nearly all concerts, sporting events, Broadway threatre productions, and music festivals across the U.S. and Canada; and offer them to customers without a service fee. This mission came from listening to customers voice their concerns about feeling ripped-off by the surprise service fee at checkout. While adding these fees seems to be standard practice, from the small local brokerage to the mega marketplaces and even the box office, TicketProxy.com's founding team; Nico Casias, Chelsea Gullette and Mark Evans decided that the much disliked service fee should be stricken from their business model.
It's worked. According to Gullette, TicketProxy.com's sales and customer service head, "Customer complaints regarding the cost of tickets are almost non-existent. They know they're often paying above face value for premium and sold out tickets, but are pleasantly surprised when the only additional cost is a delivery fee; which we're also considering eliminating." The Denver-based startup has already experienced rapid growth as a result of cutting fees, shattering first quarter revenue goals and on target for surpassing their yearly goal. One might find that odd since they essentially cut a significant portion of profit by doing away with fees; but Evans, the company's marketing and business development strategist, believes that the increase in sales volume and decrease in time spent on customer complaints will more than make up for the profit loss from service fees.
"We're thrilled with the response we've received so far. It's a wonderful realization that you can be a profitable business without tricking your customers at the checkout page; we feel that too many brokers and resale sites have tarnished the reputation of the ticketing business by adding such outrageous service fees. The amount of return customers we're getting is a testament that people are happy with what we've done." said Casias, the company's founder.
For more information, visit http://www.ticketproxy.com. TicketProxy.com is a secondary marketplace and ticket brokerage that displays the inventory of brokers throughout the United States and Canada. They are not affiliated with any local box office or ticketing company. The tickets sold on TicketProxy.com are generally above face-value and price is determined by market demand.