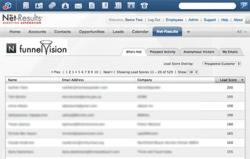 We're looking forward to seeing our customers grow their businesses with Net-Results and SugarCRM." - Clint Oram, CTO and Co-Founder, SugarCRM.
Golden, CO (PRWEB) May 24, 2012
Net-Results, the number-one ranked marketing automation software solution that significantly increases company revenue acceleration, today announced the immediate availability of an integration between its new sales enablement tool, FunnelVision and SugarCRM, the world's fastest growing CRM company. The new capabilities extend the marketing automation system's proven ability to improve the effectiveness of a company's revenue growth strategy.
"Every organization wants to make their sales team more effective. That means spending their time closing more deals instead of prospecting," said Michael Ward, CEO of Net-Results. "With Net-Results FunnelVision, we have introduced a groundbreaking integration with SugarCRM that allows salespeople to have a real-time view of their hottest leads and their most-recently engaged prospects as well as the ability to send trackable Net-Results emails from within SugarCRM. We are excited to bring even greater efficiency to sales teams using the proven SugarCRM platform."
Net-Results FunnelVision, a new module for their marketing automation platform, provides a company's sales organization with timely and actionable insight to improve sales efficiency by prioritizing timely leads and opportunities to close more business, faster. FunnelVision gives sales reps a clean dashboard highlighting their hottest leads and activity, such as recent Web activity, correspondence, or participation at an event.
"Marketing automation coupled with CRM can both lower sales and marketing costs while also driving major gains in customer targeting and sales productivity," said Clint Oram, CTO and co-founder of SugarCRM. "Our goal is to enable out customers to be wildly successful with their CRM implementations, and this new integration is definitely in alignment with this goal. We're looking forward to seeing our customers grow their businesses with Net-Results and SugarCRM."
"We're evangelistic about SugarCRM and marketing automation. Both SugarCRM and Net-Results are challenging and disrupting the market", said Jim Ward, CEO of BrainSell Technologies and President of the SugarCRM Partner Advisory Board. "I've experienced the Net-Results integration with SugarCRM and there's not another solution that can do what Net-Results does within Sugar to help salespeople close more business. What's most exciting is that our clients will be the big winners. "
Who's Hot
Organizations turn to Net-Results to drive all facets of their revenue creation activities across departments and territories.  The "Who's Hot" tab on the FunnelVision dashboard allows a sales rep the ability to see his or her leads ranked by lead score. Users can filter by name, company or email address as well if they wish. This capability allows the SugarCRM user to identify and prioritize at any and all times which prospects warrant attention – all in real-time.
Prospect Activity
FunnelVision also includes the ability for sales reps see which of their prospects have recently interacted with the website, landing pages, emails, etc. As industry experts continually show, reaching your prospects quickly after they have engaged with one of your marketing activities significantly increases your chances of closing a sale. With Prospect Activity, the salesperson can always be on top of the situation.
Anonymous Visits
As sales people increasingly are looking for more leads, the Anonymous Visits component of FunnelVision shows salespeople which companies have been interacting with their website. These not-yet-engaged prospects offer the opportunity for proactive outreach when appropriate. Net-Results provides location, search phrase and specific pages viewed in addition to company name. Social tools such as LinkedIn are tied in making it easy to find the right person to engage with.
My Emails
My Emails in Net-Results FunnelVision allows the sales rep to see what has occurred with each trackable Net-Results email that was sent through the SugarCRM application. With FunnelVision users can send trackable emails individually to a lead and identify whether it was opened, clicked on or generated a website visit just as if it were sent through the Net-Results marketing automation system. No other marketing automation system allows trackable emails to be sent from within the SugarCRM application.
As with all new features and modules of Net-Results, FunnelVision is available at no additional cost to existing Net-Results subscribers. For more information please contact info(at)net-results(dot)com.
About Net-Results
An employee-owned SaaS technology company with hundreds of deployments and partnerships on six continents, Net-Results is the leader in marketing automation software for next-generation marketers. Net-Results delivers a real-time lead management technology solution for organizations and provides deeper data analysis than any other solution. 
Headquartered in Golden, Colorado, Net-Results was founded in 2003. For more information visit http://www.Net-Results.com or subscribe to our blog at blog.net-results.com.
About SugarCRM
SugarCRM makes CRM simple. As the world's fastest growing customer relationship management (CRM) company, SugarCRM applications have been downloaded more than ten million times and currently serve over 1,000,000 end users in 192 countries. Over 7,000 organizations have chosen SugarCRM's On-Site and Cloud Computing services over proprietary alternatives. SugarCRM has been recognized for its customer success and product innovation by CRM Magazine, InfoWorld and Customer Interaction Solutions.
For more information, call (408) 454-6900 or 1 87 SUGARCRM toll-free in the US, email contact(at)sugarcrm(dot)com, or visit http://www.sugarcrm.com. You can also connect with SugarCRM on Facebook, Twitter and YouTube.
Net-Results Media Contact:
Frank McSwain
Net-Results
771-2552
fmscwainjr(at)net-results(dot)com
SugarCRM Media Contact:
Elena Annuzzi
SugarCRM
(408) 792-6952
eannuzzi(at)sugarcrm(dot)com