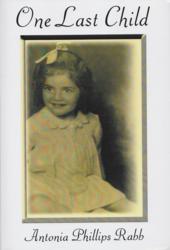 Coral Springs, FL (PRWEB) May 24, 2012
Soon after opening in 1892, Ellis Island, portal to opportunity, was channeling 10,000 immigrants daily into new lives in the new world. One of them that year carried with him the seeds of an American success story, a sprawling, colorful multigenerational saga brought vividly to life in One Last Child, Antonia Phillips Rabb's engrossing new memoir of her life both in and on the periphery of one of Boston's most respected, prominent families.
The young son that Nachman Rabinovitch brought to America would go on to found Stop & Shop, the innovator of the modern supermarket. Jacob had his father's intellect. It seemed to combine magnificently with an America vibrating with opportunity. Jacob also had Nachman's Tay Sachs gene. Four of Jacob's children died in a row during childhood. That's where the author comes in, adopted at three months of age, with zero chance of dying of Tay Sachs.
One Last Child certainly explores the emotional nuances of being unwanted by one family and wanted desperately by another. As the writer she is—Rabb has written nine books of poetry—she does it deftly and insightfully. But it would be a mistake to minimize this memoir as another search-for-identity story.
Of all of One Last Child's many charms, one of the most enjoyable is the perspective on American culture it so casually offers. The near-century and-a-quarter that Ms. Rabb chronicles are years of tremendously accelerated cultural change. Rabb does a wonderful job of evoking an America growing into the one we know today. She tells her story without polemics, most notably in the depiction of opportunities for girls and women over the decades. Rabb doesn't take sides. She simply develops scene after evocative scene and lets us judge for ourselves.
One Last Child also does a remarkable job of keeping us grounded in time. Twelve decades is a lot of time to cover. Rabb keeps the energy up and the momentum going. Time, for her, is a place to visit. In the right hands, jumping decades, centuries even, makes for a panoramic ride. Rabb, a mother of six and grandmother of seventeen, looks back at it all with wide-eyed wonder. What a long, strange trip it's been for her. What a treat for us that she's so beautifully able to portray it.
For further information, visit http://antoniaphillipsrabb.com/.
One Last Child
By Antonia Phillips Rabb
Media contact: Victor Gulotta, Gulotta Communications, Inc.
617-630-9286, http://www.booktours.com, victor(at)booktours(dot)com
About the author
Antonia Phillips Rabb attended Mount Holyoke College and was a protégé of Professor John Holmes of Tufts University. A recipient of several grants, she has taught at The Boston Aid to the Blind and community centers, and served as a consultant teacher to many Boston schools. She has given seminars at Learning in Retirement at Harvard, The Berkshire School, Pine Manor Junior College, Hebron Academy, Mount Ida Junior College, and Pine Crest School in Florida where she now resides. At present she facilitates classes in creative writing for all adult ages in libraries, learning centers, and private communities in the area. She is a mother of six and grandmother of seventeen.