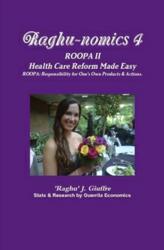 Raghu-nomics is not selling policy prescriptions, but showcasing the kinds of opportunities found once we look past the liberal versus conservative paradigm.
Honolulu, HI (PRWEB) May 25, 2012
Raghu Giuffre is holding his press conference at the Off. of Elections, 802 Lehua Ave; 1 pm, Fri. May 25, 2012 Pearl City, HI 96782. On FaceBook: Raghu For Congress (FB membership not required to view).
Raghu Giuffre has authored 6 books on economics called Raghu-nomics. Raghu-nomics has policy proposals that offer solutions for everything from healthcare (reduce cost 50% while improving services); to federal deficit ($2 to $4 trillion paid off in months without tax hikes or service cuts); to tax reform (50% reduction while upgrading service). "The formula is simple," Raghu says. "We only need look beyond the two party ideology and take a second look at many of the considerations we already know about."
Here are some examples given in Raghu-nomics:
1) Healthcare: 50% premium reduction
Raghu explains, "50% of all health care is lifestyle related. If that's 50%, why not take a look at lifestyle? Raghu-nomics does so under the program: ROOPA: "Responsibility for One's Own Products & Actions." In short, if everyone covered their own lifestyle cost, we could reduce both taxes and insurance by this same 50%. ROOPA has found a number of ways this can be done. For example, obesity runs about $200 billion a year in health care costs. This comes to 5 to 10 cents for every hamburger, soda pop, French fry and ice-cream we buy. We will now have free healthcare for all obesity related programs. The more junk food consumed, the more we have already contributed to our own health care for it. And no, this is not a tax, but an insurance premium. It's the world most affordable health care insurance: it's a dime."
2) Deficit Reduction: $4 trillion paid in months
$2 to $4 trillion of the US federal deficit is in real estate securities that Uncle Sam bought as part of the banking bailout. This means resolving the real estate crisis would allow Washington to sell these securities and payoff $4 trillion of our US deficits. Raghu-nomics has the RADHA mortgage program that offers to solve the real estate crisis in a matter of weeks thereby paying down deficits in just months without tax hikes or service cuts. And the list goes on.
"Raghu for Congress is not selling policies prescriptions," he says. "But showcasing the kinds of opportunities found once we look past the liberal versus conservative paradigm." In closing, he says, "The policy proposals are fairly common sense ideas that most us already know about, but we have failed to take a second look." The reason, Raghu gives, "Today's system of conflict politics has monopolized the national dialogue." He says, before concluding, "Today, we take this second look."
Raghu has dedicated his campaign to "finding this new world of possibilities just waiting for us beyond two party politics."
For articles by Raghu Giuffre
http://www.examiner.com/republican-in-phoenix/raghu-giuffre
Raghu Giuffre is also on FaceBook: Raghu For Congress
Facebook membership is not required to review his FaceBook page for Congress.
The official website: http://www.roopa.org
The complete set of Raghu-nomics
http://www.lulu.com/shop/search.ep?type=&keyWords=raghu-nomics&x=0&y=0&sitesearch=lulu.com&q=
Book recommended to start with of the Raghu-nomics series:
http://www.lulu.com/shop/raghu-j-giuffre/raghu-nomics-4-abridged-roopa-ii-health-care-reform-made-easy-social-cost/paperback/product-20137378.html