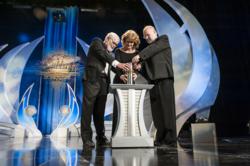 The Dow-Jones Industrial Average stands at 8,400, but the dollar is worth a third of today's
Hollywood, CA (PRWEB) May 23, 2012
A time capsule sealed 25 years ago at the Writers of the Future awards ceremony held atop the World Trade Center in April 1987 contained predictions from several top international bestselling authors as well as highly acclaimed scientists. One such forecast was from international bestselling author and astrophysicist at University of California, Irvine, Gregory Benford ("Galactic Center Saga") and founding judge of the L. Ron Hubbard Writers of the Future Contest.
In his 1987 forecast, Benford wrote,

"World population stands at nearly 8 billion."
"The Dow-Jones Industrial Average stands at 8,400, but the dollar is worth a third of today's."
"Oil is running out, but shale-extracted oil is getting cheaper. The real shortage - in much of the world is…water."
"Most Americans are barely literate, think in images rather than symbols, and think the future is something that will happen to somebody else…just as today…"
"The outer-directed, social-issues consciousness of the USA, only nascent in 1987, will have peaked and run its course…leading to a fresh period of inward-directed values, perhaps even indulgence…though there will be less ability to indulge."
"The French will still like odd Americans, unhonored in their own land (like the comedian Jerry Lewis), and will have just produced another desiccating critical theory of literature. Their food will be the same, too."
"Berkeley, California will have a theme park devoted to its high period -- the 1960s."
"Bases on the moon, an expedition to Mars…all done. But the big news will be some problematical evidence for intelligent life elsewhere."
"In science, the Icks (physics, mathematics) will be eclipsed by the Ologies (biology, psychology, eco1ogy …)."
"There will have been major "diebacks" in overcrowded Third World countries, all across southern Asia and through Africa. This will be a major effect keeping population from reaching 10 billion."
"The Crazy Years surrounding the turn of the century will have petered out, millennial faiths vvi11 be boring again, and the attitudes expressed in this collection of predictions will seem very outmoded and "twen-cen."
"I will be old, but not dead. Come by to see me, and bring a bottle."
For more information on the Writers of the Future and to see other revealed predictions from the time capsule, go to http://www.WritersOfTheFuture.com .
About The Writers Of The Future Contest
The Writers of the Future writing contest was initiated by L. Ron Hubbard in 1983 to provide a means for aspiring writers to get that much-needed break. Due to the success of the Writing Contest, the companion Illustrators of the Future Contest was created in 1988.
The intensive mentoring process has proven very successful. Past winners of the Writing Contest have published over 750 novels, 3,500 short stories and winners of the Illustrating Contest have had their art published in more than 500 books and magazines, with 4,500 illustrations, 350 comics and over 1.3 million art prints.