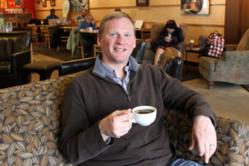 The coffee shops we work with attract more customers, sell more drinks and earn more per sale than they did before.
Columbus, OH (PRWEB) May 25, 2012
Crimson Cup Coffee & Tea, whose alternative to coffee shop franchises has helped establish hundreds of successful coffee shops, is celebrating National Small Business Week by offering free coffee and consulting to independent coffee businesses.
"A coffee shop is one of the best small businesses you can own – if you know how to run it profitably," said Greg Ubert, founder and president. "Over the past 21 years, Crimson Cup has developed a tried and true approach to independent coffee shop success. The businesses we work with attract more customers, sell more drinks and earn more per sale than they did before."
To honor these small businesses, Crimson Cup is offering to share this proven approach – as well as its award-winning coffee, products and training – for one month at absolutely no charge.
"The key is taking the first step toward change," Ubert said. "We'll offer a fresh business perspective on existing operations, and then provide suggestions, training and strategies for greater success."
He said his company is equally passionate about great coffee and small business. "When we started in 1991, I had to learn about the coffee business and coffee shop operations by trial and error. Our customers have a much faster learning curve. It's exciting to see them grow and prosper as they apply the knowledge we've gained over the past 21 years."
Ubert noted that independent coffee shops can offer tastier drinks and better customer service than big chains and coffee shop franchises. "A coffee shop franchise charges you a big fee just for the right to purchase their products and equipment," he said. "Then they dictate your name, your menu, your environment and your attitude. Crimson Cup provides everything a coffee shop franchise does – and more – without the franchise fees, royalties and business restrictions."
Business owners have absolutely no obligation to continue working with Crimson Cup after the free trial, although Ubert notes that most owners decide to use the company's coffee, syrups and other products once their customers have tried them. "Crimson Cup uses only the best beans, which are artisan roasted and vacuum-packed to preserve freshness. In blind taste tests, our coffee and coffee drinks win against competitors, large and small."
To learn more about the Small Business Week offer and Crimson Cup's alternative to coffee shop franchises, call 888-800-9224 or fill out this form.
About Crimson Cup Coffee & Tea
Since 1991, Crimson Cup Coffee & Tea has roasted and packaged quality, great-tasting coffee in Columbus, Ohio and taught independent business owners how to be successful in specialty coffee. In 2007, Crimson Cup opened its first company-owned coffee house, which joined a network of more than 350 independent coffee houses, grocers, college and universities, and food service operations across 25 states that serve Crimson Cup beverages. For more information, visit crimsoncup.com. ccct052512.