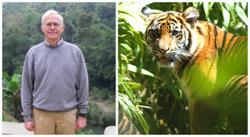 Given the threats that tiger populations face, achieving the modest goal of conserving a sample of representative tiger habitats and populations is still a huge challenge. Fred Bagley
Phoenix, AZ (PRWEB) May 24, 2012
To launch its interview series on endangered tigers, the endangered species blog 'a Tiger Journal.com' is featuring an interview with Fred Bagley, project officer for the Asia portions of the U.S. Fish and Wildlife Service's Wildlife Without Borders Rhinoceros and Tiger Conservation Fund and Great Ape Conservation Fund.
In his interview with a Tiger Journal.com, Bagley, who has worked for the Service's Division of International Conservation for over 20 years says he sees hope for saving endangered tigers in the wild. At least for the tigers who are provided sufficient resources.
"I believe that wild tiger populations will continue to exist at those sites where sufficient money, trained personnel and government commitment are available to implement the actions that are needed to conserve them," says Bagley. "At those many sites across the range where that is not happening I expect them to be lost."
Bagley, who has been with the Service since 1989, works with international, regional, and local organizations on the conservation of the tiger, greater one-horned rhino, Javan rhino, Sumatran rhino, orangutan and gibbon. This provides him with a unique vantage point to see what is happening to tigers, and other wildlife, in the wild. And he says the 'challenge' to save tigers in the wild is great.
"Given the threats that tiger populations face, achieving the modest goal of conserving a sample of representative tiger habitats and populations is still a huge challenge."
You can find Fred Bagley's complete interview here at 'a Tiger Journal.com.'
RHINOCEROS AND TIGER CONSERVATION FUND:
In 1994, the U.S. Congress passed a law to establish the Rhinoceros and Tiger Conservation Fund. Grants are awarded from this fund for anti-poaching programs, habitat and ecosystem management, development of nature reserves, wildlife surveys and monitoring, management of human-wildlife conflict, public awareness campaigns and other conservation efforts related to rhino and tiger survival.
STATUS OF TIGERS IN THE WILD:
The estimated number of tigers in the wild dropped from over 100,000 in the early 1900's to around 4,000 in the 1970's.
Today, tigers are a critically endangered species. It is estimated the total wild population of the five subspecies of tigers remaining the wild (Bengal tigers, Indo Chinese tigers, Amur (Siberian) tigers, Malayan tigers, and Sumatran tigers) is between 3,200 and 3,500 tigers.
The sixth subspecies of tiger, the South China tiger, is considered to be extinct in the wild. Experts say there are only 47 South Chinese tigers alive today, and all live in China's zoos. This makes the South China tiger well positioned to become the next subspecies of tiger to become extinct.
Of the eight original subspecies of tigers, three have become extinct in the last 60 years. The Bali tiger became extinct in the 1930's; the Caspian tiger in the 1970's; and the Javan tiger in the 1980's.
The author of 'a Tiger Journal.com,' Endangered Species Journalist Craig Kasnoff, created 'a Tiger Journal.com' to "promote the plight of endangered tigers to help save them from extinction."