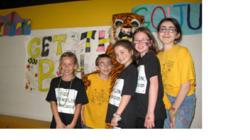 FRANKLIN PARK, PA (PRWEB) May 25, 2012
Teachers and parents from Franklin Elementary School in the North Allegheny School District, raised more than $1,700 in the third annual Parents vs. Staff basketball game to benefit the Kilimanjaro Education Foundation (KEF).
The basketball game, which took place at the district's Ingomar Middle School, is part of a long-term partnership between Franklin Elementary and KEF to build and stock a new library at the Eluwai Primary School and Noonkodin Secondary School in the village of Eluwai outside of Monduli in Tanzania. KEF is a nonprofit volunteer organization with a mission to provide African children the same education opportunities as children in developed countries.
"This project is all about kids helping kids," said Jeff Anderchak, Principal at Franklin Elementary. "The basketball game included great student participation, including more than 70 cheerleaders and the school orchestra playing the National Anthem. Students also raised an additional $600 during spirit days leading up to the game."
Franklin Elementary is approaching its goal of $10,000 in this effort, with more than $8,900 already raised. The library's foundation has been completed and work will continue as additional funding is in place.
"Franklin Elementary School exemplifies the kind of partnership that makes KEF's work in the region so gratifying," said Todd Grossman, founder of KEF. "The consistent and creative fundraising efforts and the enthusiasm of the students and staff make it easy for KEF to do the work it is doing in Tanzania."
About KEF
Kilimanjaro Education Foundation (KEF), (http://www.kef4kids.org) founded in 2006, is incorporated in New York State and organized as a 501(c)(3). KEF strives to improve education and to build school facilities for underprivileged children in Tanzania and other countries bordering Kilimanjaro. KEF's volunteers and directors share in and impart not only the Foundation's passion for children and education, but also in KEF's core values of honesty, integrity, creativity and imagination.