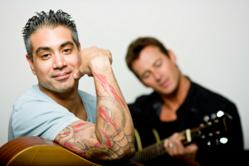 From your first lesson, I will have you playing. And, I will inspire you to keep on playing. The guitar is not an easy instrument to play; but if you aspire to be an accomplished player; I can get you there.
Fort Lauderdale, FL (PRWEB) May 30, 2012
Newly-released research reported on CNN proves that music taps into fundamental systems in our brains that are sensitive to melody and beat—and that when we play music, we exercise our brains in unique ways. Dr. Charles Limb, a head & neck surgeon at Johns Hopkins University states, "Musical experience, musical exposure, musical training, all of those things change your brain…. It allows you to think in a way that you used to not think, and it also trains a lot of other cognitive facilities that have nothing to do with music."
This music-brain connection is subject of an Association for Psychological Science symposium during the first week of June, in Chicago. It will feature leading scientists and Grammy-winning bassist Victor Wooten.
One topic that will be discussed is the way we remember how to play music. The study finds that when we sit down and learn how to play a song, the brain executes a "motor-action plan": a sequence of events that must happen in a particular order. Practicing music, then, helps strengthen the neural circuits that guide these motor actions.
A second concept discussed in both the research, and planned for the upcoming conference, is the idea of music as a language. According to Wooten, "I approach music as a language, because it is," With their native language, children never know that they're beginners. Wooten continues, "If you think about trying to teach a toddler how to read, and the alphabet, and all that stuff, before they can speak, we'd realize how silly that really is," Wooten said. "Kids most of the time quit, because they didn't come there to learn that. They came to learn to play."
Dyce Kimura is one teacher that celebrates teaching music in this immersive manner. Dyce's guitar lessons—which are designed for the absolute beginner—truly sees music as a language to learn, and treats it as such. Instead of inundating them with endless theory, Dyce focuses on getting kids to adopt a play-first mindset. New students are shown everything they need to begin playing great-sounding grooves from lesson #1.
Dyce's Fort Lauderdale beginner guitar lessons are provided at his state-of-the-art studio, which is convenient to Miami, Weston, and Fort Lauderdale. He also conducts blues Skype guitar lessons and guitar lessons for the absolute beginner, available to anyone across the globe. Interested high school students may purchase Fort Lauderdale acoustic guitar lessons or Fort Lauderdale electric guitar lessons directly from Dyce, or parents can buy them as a gift.
Dyce Kimura is a top-flight musician, and Fort Lauderdale guitar teacher. Unlike many other teachers, Dyce is hip to all of the latest music & technology trends, breaking artists, and contemporary gear. (Before Dyce began teaching, he was a sought-after session player in Miami's studio scene, recording with scores of hip-hop, rock, blues and Christian artists—and is a nationally-recognized blues guitar authority.)
For more information on giving the gift of Fort Lauderdale guitar lessons for your high school student, contact Dyce at (786) 457-3687 today.