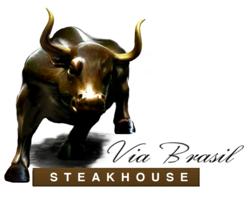 Via Brasil Steakhouse Red Ribbon Event
Las Vegas,NV (PRWEB) May 30, 2012
Via Brasil Steakhouse is celebrating their New Chamber of Commerce Membership on June 26, 2012 with a Red Ribbon Cutting Event from 6pm till 10pm. There will be passed "free appetizers" and "2 complementary glasses of wine" per person, FREE Admission and Extended Happy Hour till 10pm (at the bar and Patio only).
The event will begin at 6pm with Samba Dancers Show then at 7pm there will be another show.
You are welcome to come and network yourself and your business at "One of the Best of Las Vegas 2010," as voted by the LV Review Journal. Enjoy an evening of Socializing & Networking. Via Brasil Steakhouse is located on 1225 S. Fort Apache Rd. Las Vegas NV 89117. Space is limited so please email Anna your registration information at Anna(at)viabrasilsteakhouse(dot)com before 06/23/12. If you have any questions please call Anna at 702-804-1400.
About Via Brasil Steakhouse:
Via Brasil Steakhouse is located at 1225 S. Fort Apache Road, on the southwest corner of Charleston Boulevard and Fort Apache Road. Open seven days a week, Via Brasil Steakhouse is open for Dinner service from 5 pm Monday through Friday, 3pm Saturday and 4PM Sunday. Lunch is Served Sundays Only from 11:30am -4pm. Reservations are encouraged. For reservations or more information, please call 702-804-1400 or visit http://www.viabrasilsteakhouse.com. Also follow us on Facebook and Twitter @viabrasilsteakh
Media Contact
Anna Lawrynowicz
702-804-1400
anna(at)viabrasilsteakhouse(dot)com
http://www.viabrasilsteakhouse.com