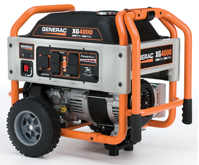 Houston, TX (PRWEB) May 24, 2012
South Texas Generator Systems recommends that the portable gasoline generator be maintained regularly and completely just like you would your car.
A portable generator is an item that is not given much thought until it is needed to supply power for an event or an emergency. If it does not operate properly it becomes a source of frustration. In order to avoid this issue here are some tips that will keep a portable gasoline generator at peak performance for years to come.
When to Apply a Load;
Have the generator running before a load is applied. Likewise, remove the load before shutting the unit down. Do not tamper with engine speed. The RPM are factory set.
Generator Maintenance
TIP #1
How often does a generator need to run?
It is recommended running the generator once a month with a load.
TIP #2
When should the gasoline be drained?
Gasoline should always be remove from the engine if it is stored for longer than three months. You should never store combustible materials in your home or vehicle.
TIP #3
Does fuel stabilizer really help?
The use of fuel additives will minimize the formulation of fuel gum deposits during storage. Such an additive may be added to the gasoline in the fuel tank of the engine, or to the gasoline in a store container.
TIP #4
Where is the best place to store a generator?
Store the generator in a clean, dry place that is well ventilated away from open flames or sparks. If unit is stored in a basement all gasoline from the engine and tank should be removed.
TIP #5
Where does one obtain generator maintenance / service parts or warranty for the engine?
Warranty for an engine is available exclusively through the Engine Manufacture of the unit. Or Contact STGS @ 888-873-1069
For more information on portable natural gas generators or diesel standby generators contact STGS for configuration standards and practices at http://www.stgs.net or http://www.southtexasgeneratorsystems.com/ We proudly represent Generac,Cummins Onan, Kolher, Briggs & Stratton, GE and Gentracker monitoring systems.