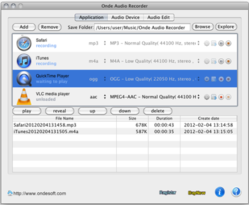 Record Any Application On Mac
Kaysville, UT (PRWEB) May 27, 2012
Beginning on May 26th, anyone can head on over to http://www.ondesoft.com/giveaway.html and download their free copy of this amazing software here:
http://download.ondesoft.com/onde-audio-recorder-anniversary-edition.zip
Although the offer technically ends on June 6th, OndeSoft has warned that they expect their loyal and dedicated fan base to snatch up the 10,000 copies quickly, so anyone who is interested in trying out the latest version of this critically acclaimed software should act quick.
"We've seen a wonderful amount of support from the Mac community over the past year, and we know we wouldn't be anywhere without their constant input and feedback," said OndeSoft CEO, Sean Lee. "So, in order to show our gratitude, we've decided to give back to the community that has been giving to us for the past year. Giving away our most popular product to 10,000 lucky fans is just a small way for us to say, 'Thank you.'"
The Onde Audio Recorder has consistently stayed ahead of its competition with superior features and routine updates. The latest version, available to all for free from May 28th to May 31st, includes all the features that made previous versions so popular, including the ability to record audio from: any website (YouTube, Vimeo, Last.fm, Pandora, and many more), any chat program (Skype, iChat, MSN), and any music or movie program (iTunes, iDVD, VLC, QuickTime, etc.). With the latest version, OndeSoft has worked very hard to improve integration with iChat and Skype, as well as add new integration with QQ! Additionally, the latest version also includes an improved editing function, allowing the user to cut, copy, and mix their audio samples in any way they desire.
In addition to this fantastic give-away, OndeSoft has announced that they will also be offering a 50% discount on all other products in the OndeSoft Software Suite. This includes their Onde Clip Buddy, Screen Rulers, and Screen Capture software packages. To learn more about their impressive range of software, visit http://www.ondesoft.com/giveaway.html
Tip : This Anniversary Edition is distributed for free. It is not accompanied by free upgrade and tech support services.
Ondesoft is a company composed of Mac users creating Mac apps for the good of the Mac Community. Ondesoft has continually been producing quality applications for Mac OS and is currently working on increasing their scope to include iOS, as well. Stay tuned for developments and be sure to visit the site at http://www.ondesoft.com.