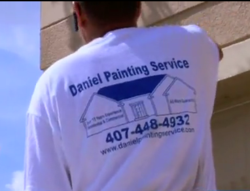 We're delighted that so many customers recommend us to their friends. It's our aim to become the leading painting company in Orlando through commitment to excellent customer service
Orlando, FL (PRWEB) May 25, 2012
Orlando-based painting company, Daniel Painting Service, has doubled its staff in the past year to cope with ever-growing demand for its services. The company welcomed 15 new members of staff to the team this month. Daniel Painting Service is widely recognised as one of the leading painting companies in Orlando and is starting to expand its services beyond simple painting tasks.
"We have over 400 clients a year and are gaining more all the time," explained Managing Director Keith Daniel of Daniel Painting Service. "Of the work that we quote for, we win 90% of these which is a huge achievement. Nothing is too much trouble for our employees and we have a 100% satisfaction rating. Word gets around."
Despite having a fast-expanding team, Mr Daniel, who has over 25 years' experience in the painting industry, personally visits every house that his company is asked to paint. "I like to give every job my personal attention. I undertake a personal inspection on every house and make sure I give a formal quote that is as detailed as possible."
Mr Daniel of Daniel Painting Service makes certain that this level of focus and attention to detail is passed on to his staff too. Every new member of the team undertakes a specifically designed training programme lasting six months to ensure the customer gets the best and smoothest possible service.
"We're very much a recognised brand in Orlando," said Mr Daniel. "The training programme is very important because we're all part of the same team and we want every job to meet the high standards we've worked hard to establish. We have an established visual identity too – our employees wear official uniforms and badges so our customers know we're a credible, professional company."
Daniel Painting Service strives at being the best at what they do, and this quality has been reflected with the work that they do. All the work is completed to extremely high standards and this is one of the reasons why Daniel Painting Service is widely known as the leading painting company in Orlando today.
"I've built over 30 homes from the ground up and my team are trained to spot construction problems that can affect a paint job," says Mr Daniel. "We feel it's our duty to point out problems such as roof leaks, loose plumbing pipes or rotting wood that will cause a problem for the homeowner."
While the team are willing to fix problems like these, they are adamant that they will only do so if it's in the customer's best interests. "We don't go looking for problems so we can charge a higher price. If they prefer, we'll refer them to contractors in the construction industry to fix problems like these. But we do feel it's our responsibility to keep customers informed about potential problems and offer our services in fixing these problems if that's required."
Daniel Painting Service is expanding at an unprecedented rate and plans to take on further staff in the coming months to keep up with demand. "We're delighted that so many customers recommend us to their friends. It's our aim to become the leading painting company in Orlando through commitment to excellent customer service."