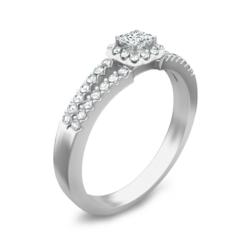 Oval Engagement Rings and Oval Diamond Rings have always been very popular with women
Baltimore, MD (PRWEB) May 25, 2012
Oval diamonds were first cut in early 1950's. The oval diamonds were made as a mix between Round cut diamonds and Marquise shape diamonds. One of the leading diamond cuts in fancy shape diamonds, Oval diamonds have always been very popular with women seeking alternate engagement rings. However in the last decade, Oval engagement rings, have become more mainstream and oval diamond engagement rings are now popular with women everywhere. With the rise in popularity of oval engagement rings, JewelOcean has launched an exciting collection of diamond rings designed exclusively with oval diamonds, which was launched in April, 2012. The collection has garnered lots of interest with JewelOcean customers.
"Oval cut diamond engagement rings were always very popular with women who wanted something extraordinary, however with many celebrities showcasing their engagement rings with oval diamonds, Oval engagement rings have become more mainstream", says Mr. Mathew Bruno, manager at JewelOcean. He further adds that the rising popularity of oval diamond rings was one of the main reason JewelOcean, as a company decided to launch an exclusive line of diamond engagement rings which are made only with Oval diamonds.
While the entire collection of Oval diamond engagement rings, showcases Oval cut diamonds, however customers still have lots of customization abilities to design the engagement rings to their preferences. Customers can choose between different gold options like White gold engagement rings and yellow gold engagement rings. Few of the very popular designs can also be customized in rose gold, and customers can get their rose gold engagement rings with oval cut diamonds. Customers would also be able to change the gold purity of their engagement rings, with most of the engagement rings available in 10k, 14k or 18k Gold options.
One of the major attraction of the new oval diamond engagement rings collection is the cheap and affordable prices of the entire line. These Oval diamond rings are now available on sale prices and customers can find many deeply discounted oval diamond rings at very cheap and affordable prices. Most of the oval diamond rings are however available in limited quantities and as such many designs have already been sold out.
JewelOcean.com is a leading online wedding sets retailer. The company provides diamond bridal sets and wedding sets at cheap and affordable prices. All purchases from the company are backed with Refund policy. The company also provides 24/7 customer service. For more information and to view the new oval engagement rings collection, please visit JewelOcean.com website.