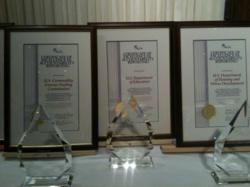 The agencies and departments being honored today truly represent a select group within the government financial management community.
Alexandria, VA (PRWEB) May 24, 2012
Recognizing the highest standards of federal accountability reporting, the Association of Government Accountants (AGA) presented its prestigious Certificate of Excellence in Accountability Reporting (CEAR) Award to 19 federal departments and agencies in Washington D.C. yesterday.
The annual CEAR award recognizes high-quality Performance and Accountability Reports (PARs) and Annual Financial Reports (AFRs) that effectively illustrate and assess financial and program performance, accomplishments and challenges, cost and accountability. AGA also spotlights the teams of dedicated federal professionals contributing to the report's production.
The awards presentation comes at a time when the nation's government is perceived to be failing. In April, the Pew Research Center for the People and the Press noted that 62 percent of Americans have an unfavorable view of the federal government – the lowest rating in 15 years, according to their survey.
"Given the fiscal status of the United States government and the public's perceptions about government fiscal accountability and transparency, the achievement of this year's CEAR recipients is even more significant," says AGA Executive Director Relmond Van Daniker. "The agencies and departments being honored today truly represent a select group within the government financial management community."
The following U.S. agencies and departments received the CEAR award: Agency for International Development; Architect of the Capitol; Commodity Futures Trading Commission; Department of Education; Department of Housing and Urban Development; Department of the Interior; Department of Labor; Department of the Treasury; Federal Aviation Administration; Federal Housing Finance Agency; Federal Trade Commission; Government Accountability Office; Office of Financial Stability, Nuclear Regulatory Commission; Patent and Trademark Office; Peace Corps; Securities and Exchange Commission; Small Business Administration; and the Social Security Administration.
AGA also honored 12 federal agencies that demonstrated specific points of excellence within their fiscal year 2011 PARs. Known as 'Best in Class' awards, the recipients included:
Agency for International Development: Best Improper Payments Reporting
Architect of the Capitol: Most Effective Management Discussion and Analysis
Commodity Futures Trading Commission: Best High-Level Discussion of Performance in an Agency Financial Report
Department of the Interior: Best Description of Financial Management Systems Strategy and Status
Department of the Treasury, Office of Financial Stability: Most Innovative Approach to Communicating Technical Information
Federal Aviation Administration: Best Summary of Performance and Financial Information
Federal Trade Commission: Most Informative Performance Section
Government Accountability Office: Most Comprehensive and Candid Presentation of Forward-Looking Information
National Aeronautics and Space Administration: Best Use of Drill-Down Linkages
Patent and Trademark Office: Best Chief Financial Officer's Recognition of Financial and Operational Issues
Peace Corps: Best Description of Agency Activities
Social Security Administration: Best Presentation of Matters of Importance to All Americans
"The Architect of the Capitol strives to balance our stewardship responsibilities with fiscal responsibility and during these challenging times, we are doing more with less to save taxpayer money. We are honored to receive this award for our Performance Accountability Report in recognition of our effectiveness in reporting our financial stewardship," says Architect of the Capitol Stephen T. Ayers, FAIA, LEED AP.
"We are heartened by the numbers of agencies and departments receiving the certificate and those who participated in the program," says Van Daniker. "Nineteen recipients are a large number to recognize, and we view this as evidence not only of continuous improvement, but also of a real commitment to accountability and transparency among federal government financial managers and their agencies."
About: AGA is the premier association in advancing government accountability. AGA supports the careers and professional development of more than 15,000 government financial professionals working in federal, state and local governments and the private sector and academia. For more than 60 years, AGA has promoted transparency and accountability in government through education, research, publications, certification and conferences. Complete details may be found at http://www.agacgfm.org.