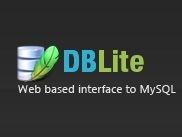 (PRWEB) May 24, 2012
Manusis launches the most powerful web based client for MySQL databases. Dblite aims to free users from their desktop clients and give them the ability to access their database from anywhere anytime, without worrying about remembering connection details or SQL queries. Dblite works on all the major browsers and works equally well on mobile devices. The initial users of dblite are amazed at the mobility that it provides and dblite has become a permanent member of their database tools.
Dblite maintains state of user's last interaction. So user can close dblite app in office and login from home to find it in exactly the same state where he left it. It will open the same connection, database, table or the SQL editor that was in use when the application was last closed. It even remembers the size and positioning of the windows so users do not need to keep resizing them again and again to their comfort level. The history allows users to view and re execute their recent queries with single click.
Dblite makes it easier to share database connections and SQL queries. Teams can create a single dblite login for a project and use that to access the databases or saving common queries. Database administrators can share the dblite login details without sharing the credentials for the databases and change the dblite password when the work is complete.
Built with the powerful ExtJS, dblite has inherent support for Ajax. Dblite plugs together rich and modern widgets to give users a user interface better than most desktop MySQL clients like MySQL Query browser, SQLYog or Navicat. The intuitive interface gets the work done faster and in fewer clicks than common web based database clients. A lot of our initial users are converts from phpMyAdmin and swear to not to go back.
Dblite is available for free download. With PHP as the backend and small size (less than 1MB), it can be installed easily in most server environments including the shared hosting environments. There is an online cloud hosted version which allows users to access their databases without installing dblite. Dblite is also available for download on Sourceforge. A fully functional live demo is available at demo.dblite.com
Dblite provides some unique and useful features like Auto-Refresh to reduce time and increase productivity. With support for inline editing for frequently used functions and minimum popups, it comes as a breeze to developers.
Manusis Technologies specializes in building Rich Internet Applications for its client across the globe. An Avid user of Open Source applications, Manusis is committed to give back to the open source community. That is why it has made Dblite available under GPLv3.