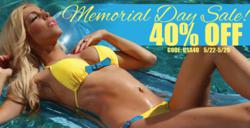 Los Angeles,CA (PRWEB) May 24, 2012
AMIClubwear encourages patriotic Americans to celebrate the Memorial Day Weekend in great fashion styles by offering irresistible bargains! At 40% off quality fashion items using coupon code USA40 from 22nd of May to 29th of May, 2012; that's a tremendous bang for shoppers' hard-earned dollars. With this, AMIClubwear honors the U.S. of A's unique roots by sharing the American spirit of independence, and generosity! If shoppers want to be in tip-top-fashion-shape for the long weekend ahead, they are urged to pay heed to very practical advice: purchase these fashion items early, and take advantage of the 40% discount because these beautiful items run out very quickly! After all, shoppers everywhere are simply lying in wait for that ultimate fashion purchase.
But, wait; there are some sectors that say Memorial Day Weekend is not as traditional as it once was.
It has been proposed that Memorial Day is a day that should be remembered with decorum and solemnity. So, a movement was started in 2002 to bring back its "traditional manner of celebration." However, most Americans prefer to celebrate Memorial Day Weekend with verve and gusto! And, why not, pray tell? Yes, lives have been sacrificed to make The Nation the great nation it is today, but, Americans who are by nature full of spunk, prefer to celebrate with revelry, good natured spirits, and enjoyment of everything American.
Isn't this exactly what the pioneering ancestors fought for? Imagine how they would celebrate Memorial Day if they were allowed to travel forward in time to 2012. After the initial culture and period shock, they'd probably want to join in the revelry and song! But just like anyone planning to celebrate, they'd want to do it in style. And when style is the issue, it's all about putting together an outfit, or outfits, that are worthy of such an important celebration. Peruse our collection of party dresses that are perfect for showing off your style.
At AMIClubwear, the assortment of fashionable clothes in delectable colors and styles is enough to awaken anyone's patriotic and fashionable side. Pioneer the discount shopping expedition with a variety of styles that will surely make Memorial Day Weekend a weekend to remember.
Floral prints were the in thing for spring, and the trend continues to summer. Neon jeans in popping colors which were oh-so-fab for spring are still making waves into summer. The discounted shopping list goes on: color block dresses, high-low hemlines in airy fabric, sexy jumpsuits, peplum dresses, hip heels, edgy wedges, sweet sandals, beautifully cut bikinis and one-piece swimsuits, even colorful studded handbags! AMIClubwear has all of that and more at 40% off. All shoppers have to do is use coupon USA40, and they'll snag great fashion items at such low prices they'll experience a guilty thrill.
But why feel guilty as a shopper when this is also an exercise of very American attributes: practicality, common sense, and appreciation of beautiful things! Go on enjoy shopping rewards with practical fashion purchases at AMIClubwear from May 22 – May 29, 2012. Enjoy the weekend everyone.