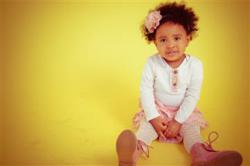 A bonus for potential clients to actually see behind the scenes
London, UK (PRWEB UK) 26 May 2012
As a new child model is launched to the modelling industry, a brand-new way of seeing behind the still photograph is born.
Offering honesty and professionalism, La Mode London are in the midst of the London modelling scene. They know what is needed for a model to make it in a very competitive industry. Having had years of experience, but with instinct also one of their powerful tools, the experts at La Mode certainly know all the inside information and aren't shy about passing it on to aspiring models starting out. It's all about model application they say.
'It's easy to talk to older models and bring out their individual personalities', explains Helen Smith, director for http://www.lamodelondon.com. ' But when a model comes in and they are only two years old, it is much harder to bring out the little pieces of information we need to show off to a potential client.'
Helen goes on to explain that every model who has a photographic shoot taken at their studios in London also has an accompanying website, complete with vital statistics but also their hobbies and interests, their inspirations and why they wanted to become a model are always listed. Helen explains that when a child arrives, it is very hard to gain any of their ambition because they are so young.
'We very often have to have the parent's point of view, which is fine because obviously the parents know their children best of all. But sometimes it can just seem like it is a pushy parent's opinion and it's then hard to know if the child shows any inclination in wanting to model in the first place.'
'This is why we came up with our model show reels', continues the director for the busiest commercial photography company at the heart of the modelling industry.' It's just a little added extra, a bonus for potential clients to actually see behind the scenes. To be able to view the attitude and aptitude of the model in question and to see how they take direction, whether they are actually enjoying themselves or not , is another way of seeing into their personality.'
Their latest show reel revolves around Lucia Anne Dujon, a model we reported on earlier in the week. At 24 months old she posed perfectly, a model seemingly much older than her two young years. The resulting portfolio and accompanying website certainly bring out her beautiful smile and her penchant for posing but it is the show reel where it is evident that Lucia was having a fantastic time, has plenty of rhythm and certainly has the makings for a model who can take instruction well.
Visit http://www.lamodelondon.com and see Lucia's portfolio and website as well as the show reel itself.