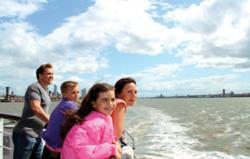 Explore the spectacular scenery and unique sights of the Mersey waterfront from the world famous Mersey Ferries.
(PRWEB UK) 25 May 2012
Explore the spectacular scenery and unique sights of the UNESCO world heritage Mersey waterfront, including the legendary Three Graces, the new Museum of Liverpool and the iconic Liver Birds.
Stop off at Seacombe and visit Spaceport, the 10m space and space travel attraction with six themed space galleries, 360 degree Dome Theatre planetarium show and the 'Wallace and Gromit in Space' exhibition – you can even meet Wallace and Gromit at special Meet & Greet sessions on Monday 4 and Tuesday 5 June.
Visit U-boat Story at Woodside, a fascinating glimpse of life onboard a real German U-Boat, the only one of its kind in the UK. The genuine U-Boat, in four sections, has glass viewing partitions giving a unique view of conditions onboard. With original film archive, interactive displays and well preserved artifacts, including a genuine Enigma machine, this incredible exhibition gives a captivating look into history.
Royal Connections
The Mersey Ferry service was first granted a Royal Charter by Edward III in 1330 and both the Daffodil and Iris were given royal prefixes by King George V in recognition of their part in the historic raid on Zeebrugge in 1918. King George V and Queen Mary both travelled on the ferry S.S. Daffodil in 1914 and more recent royal passengers are Queen Elizabeth II, Prince Phillip and Princes Anne.
The right royal offer is valid from 29 May – 11 June. Terms & Conditions: The 3 for 2 ticket offer applies to Mersey Ferries' River Explorer Cruise, Spaceport and U-boat Story. The 3 for 2 ticket offer - adult £12, child £6.50 and family ticket £30 (2 adults & 3 children) is based on the admission price for Mersey Ferries' River Explorer Cruise and Spaceport. Tickets are valid on the day of purchase only. Not to be used with any other offer. Wallace and Gromit Meet & Greet sessions - check website for details.