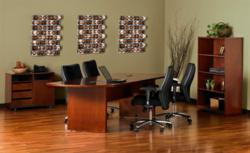 Office Furniture Deals is composed entirely of products requested by consumers.
Jacksonville, FL (PRWEB) May 26, 2012
In an effort to provide simplified solutions to home and business furniture needs, Office Furniture Deals was created. In an industry filled with stiff competition, this new business provides innovative ways to search, shop, and purchase office furniture and chairs online.
For the past four years, OFD has spent countless hours compiling industry data directly from consumers. To provide an innovative shopping experience, it was necessary to ask questions regarding what was lacking from other office furniture stores. The answer was simplicity. That being said, Office Furniture Deals created what is sure to become the standard for online furniture shopping.
Obviously with the name Office Furniture Deals, discount prices and free shipping were expected. However, modern search functionality and consumer driven categories set OFD apart. Consumers asked for the ability to shop by style, type, space, and function. Office Furniture Deals responded accordingly. With an interactive user interface, shoppers can easily navigate and explore furniture for home, executive, reception, and conference applications. Products can be easily sorted by style, type, and suggested application to meet the individual users needs.
All fancy lingo aside, owner Phil Swindle says "Office Furniture Deals is composed entirely of products requested by consumers." Necessary time was spent reviewing brands and products to be considered. Quite frankly, certain brands did not make the cut. OFD did not want to become another "me too" company attempting to provide every possible brand on the market. This resulted in the provision of exclusive furniture built to the highest levels of industry standards.
Rest assured, a new level of service and simplified shopping has been introduced to the furniture world. Office Furniture Deals has taken the old school mentality of "the customers always right" to a whole new level. By getting back to basics and remembering old school principles, this modern business is sure to impress.