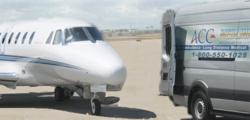 Miami, FL (PRWEB) May 25, 2012
From the United States, South America or Africa to the Middle East, Europe and Asian countries, medical tourism is globalizing the medical industry. Air Critical Care reports that the company is aiding patients who are exploring this option. The worldwide Medical Transport Company has begun offering their services to patients all around the world who find the value of medical tourism a necessity to their health. Air ambulance, commercial medical escorts and International commercial stretcher services are some of the options now available for those who desire to travel from one country to another for optimal healthcare.
For various reasons such as cost, quality, affordability and technology, medical tourism has grown significantly in the past decade and is growing more popular. Some patients prefer to arrange long distance medical transportation for privacy reasons, while others simply use medical tourism as a means to avoid long wait times for healthcare in their residing country.
The value of medical tourism is often invaluable to patients who are in search of answers to their medical needs or for those that need medical, cosmetic or dental surgeries. No matter the reason, Air Critical Care's transport coordinators are prepared to arrange transportation for all levels of patient care from bedside to bedside.
Air Critical Care's medical escort service allows a certified flight nurse to travel with a patient aboard a commercial airliner in first or business class seats, and assist the patient with medical attention, personal hygiene and medications. This service is ideal for patients that can sit up in an airline seat for the duration of the flight. For those that are traveling internationally and require a stretcher for long distance medical transportation, the company's International commercial stretcher service provides a form of medical tourism that accommodates a stretcher on an International airliner. The stretcher bed is set up in one location on the plane with drapes to offer patient privacy and allow the medical crew to care for the patient properly.
Air Critical Care's air ambulance services are ideal for patients who desire medical tourism, but need extra care while traveling. The company's air ambulance serves as a flying Intensive Care Unit. This service offers a private air ambulance and a highly-trained medical crew that can transport a patient domestically or internationally to any city, state or country worldwide.
As the popularity and convenience of medical tourism continues to grow, Air Critical Care stands ready to provide medical transportation and aid patients in search of better, more affordable healthcare. As a premier leader in medical transportation and medical escort services, Air Critical Care offers flight services 24/7 in "Every City, Every State & Every Country Worldwide." For more information about Air Critical Care, visit aircriticalcare.com or call toll free at 800-550-0674.