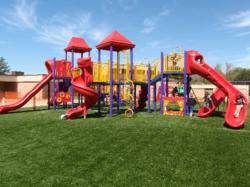 "The website offers some incredible new tools for our customers," said Bryan O'Conner, President of Total Recreation Products. "It is exciting to showcase our previous park and recreation projects, and we are happy our customers have the ability to locate
Cypress, TX (PRWEB) May 24, 2012
Total Recreation Products, in conjunction with GameTime, announces the launch of their new website which offers enhanced resources to assist customers with their playground project needs. Among the new features offered are: improved product search capabilities, a "wish list" feature similar to the technology used on Amazon.com, a photo gallery and maps to previous Total Recreation projects.
"The website offers some incredible new tools for our customers," said Bryan O'Conner, President of Total Recreation Products. "It is exciting to showcase our previous park and recreation projects, and we are happy our customers have the ability to locate our projects in their neighborhood and see our work firsthand."
In addition to the new features mentioned above, http://www.totalrecreation.net offers customers the ability to request project quotes online and features customer testimonials. It also provides information on the design, education and curriculum programs, as well as funding opportunities and outreach training, offered through GameTime and PlayCore, Inc.
About Total Recreation Products: Total Recreation Products has proudly represented GameTime since 1992, and works throughout each step of the playground planning process to build a trusting relationship by providing research-based tools, expertise and a plan that will meet each customer's budget. They have experienced territory sales managers available to assist customers with designing and planning their unique play environments, an in-house CAD department staffed with imaginative designers and an attentive staff that is available to address customer needs. For more information about Total Recreation Products, please visit http://www.totalrecreation.net or call 1-800-392-9909.
About GameTime: GameTime has been a pioneer in the commercial playground industry since 1929 with a commitment to enriching childhood through play. GameTime combines the vast wealth of research and intellectual resources of our parent company PlayCore with an unmatched distribution network to lead the industry with innovative products, programs and play environments that inspire a child's imagination and promote health and wellness for future generations.