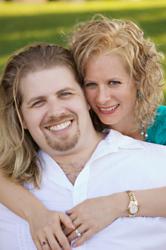 Piedmont, SC (PRWEB) May 30, 2012
Living Word International is pleased to announce a visit from Roy Fields of Run With Fire. This is an exciting opportunity for fellow Christians to be blessed and to experience a whole new way to worship.
As the world grows and changes, so must the church in order to stay relavant. Roy Fields with his modern way of worship brings young and old together. Since 2005, he and his family have been on the road traveling around the world helping people to grow in their faith. Roy says it best: "Our heart is to save lives and transform cities with the fire of revival. Our definition of revival is restoring the joy of salvation, and giving people the opportunity to fall in love with Jesus all over again or for the first time."
Roy's ministry, Run With Fire, have taken every opportunity to visit with congregations all around the world to light this fire and to be a beacon for those looking for hope, love, and salvation. By bringing a healthy dose of excitement back into church, Roy engages the congregation in a whole new way, letting everyone experience the Lord like never before.
Living Word International is happy to welcome Roy and Run With Fire to their church on June 8, for an explosive event where young and old can come and enjoy an awesome time of worship and ministry together. The church invites everyone to come and be blessed. It will be an evening full of praise, worship, and ministry that is sure to inspire every member of the family. Join Roy Fields, Run With Fire, and Living Word International for one unforgettable meeting. Roy's schedule may change so make sure to follow the posted schedule on his website: http//http://www.runwithfire.com
About the company:
The mission of Living Word International is to present the true gospel of Jesus Christ in such an accurate way; that the glory of Christ Jesus comes to life in people; turning spiritually uneducated or confused individuals into believers and believers into faithful, mature, fruitful disciples who will in turn go into all the world, presenting the same true gospel to others in the same accurate way, the glory of Christ Jesus coming to life in them, making believers and disciples of them also. Their passion in life is to help ordinary people realize their true value to God, their true father who loves them, based on the integrity of their authentic, origional, and true identity revealed in Christ Jesus, so they may fall deeply in love with their Maker and escape the frustrating routine and ritual of a mere pot-bound bonsai existence. For more information visit their website at http://www.living-word-int.org.