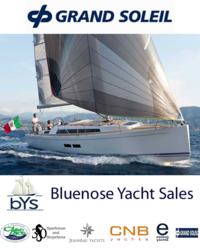 Newport, RI (PRWEB) May 29, 2012
Bluenose Yacht Sales with offices in Newport, RI and Portland, Maine is pleased to announce we have added the Grand Soleil Yachts product line for sale here in New England. Mareblu of Annapolis, MD is the East coast distributor for Grand Soleil and is working with Bluenose Yacht Sales as one of the regional, local dealers to provide better service and customer support for new Grand Soleil purchases in the northeast.
The Grand Soleil yachts ranging in size from 39' to 54' are uniquely positioned as a high quality racing cruiser with elegant Italian design on the from the deck to the main salon.
Grand Soleil built by Cantiere del Pardo
The history of Cantiere del Pardo began in Bologna in 1974. Their ambitious objective was to produce regatta boats that combined the best possible performance with elegant and innovative design.
Now, Grand Soleil's timeless style is celebrating 35 years of history. 35 years in which these boats have left their mark on a fundamental chapter in the history of modern sailing. For years, Cantiere del Pardo has been creating yachts with care and passion, each one unique, thus establishing the company as one of the top producers worldwide, because the Grand Soleil yachts are an icon of 'Made in Italy' style.
Innovative features include internal structure in carbon fibre using infusion technique.
For the creation of the interior layout and the various optional features, Cantiere del Pardo collaborated with Grand Soleil owners to achieve a better understanding of their requirements and create a product with great possibilities for customization.
Simple, clean, functional: These are all basic to the Grand Soleil list of parameters and are executed to perfection. All Grand Soleils are designed with performance in mind, as a performance yacht which is great fun to sail and is very competitive for the wide variety of regatta regulations.
Bluenose Yacht Sales with offices located in Newport, RI and Portland, Maine serves each client with personal attention to understand your preferences, experience and intended use in order to find the right fit that will deliver years of fun and yacht excitement for friends and family. Bluenose Yacht Sales is committed to "Excellence with Integrity" and long term client relationships rather than excessive size that can compromise quality of service.
Call us to discuss any of our brands or to explore how we might add value to assist your new or brokerage yacht purchase. We welcome new listings where our marketing and sales experience can make a meaningful difference. Quality brokerage boats are selling well during this spring 2012 season and we would love to add quality brokerage boats to our for sale inventory.
Call 877 - 695 - 6538 or stop by to visit.