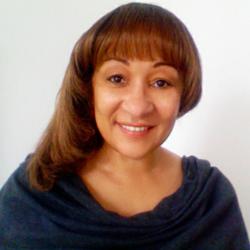 As a Latina mother and entrepreneur, I urge President Obama to reject any Senate bill that undermines the privacy rights of Americans.
Pembroke Pines, FL (PRWEB) May 24, 2012
"President Obama needs to know that the right to privacy is a core value of the utmost importance to Latinos," stated Evelyn Castillo-Bach, CEO of the new start up UmeNow, a private 'People Network' that has banned all tracking and all ads. "Once word gets out that the President of the United States favors allowing companies to spy on American families, I believe we will see a seismic shift among pro-Obama Hispanics," added Castillo-Bach, who is of Cuban and Puerto Rican descent.
UmeNow is urging President Barack Obama to veto any cybersecurity bill that supports spying on Americans. UmeNow supports the cybersecurity stance taken by Senator Ron Wyden (D-Ore.) who said on Monday that the Senate's cybersecurity legislation being pushed by Sen. Joe Lieberman (I-Conn.) and Sen. Susan Collins (R-Maine) is an overreaction to cyber threats and would undermine the privacy rights of American citizens.
As reported by The Hill, Wyden said that the Senate version of the cybersecurity bill is supported by the White House despite the fact that it shares some of the same "defects" as the House version of the Cyber Intelligence Sharing and Protection Act (CISPA).
"I believe these bills will encourage the development of a cyber security industry that profits from fear and whose currency is Americans private data. These bills create a Cyber Industrial Complex that has an interest in preserving the problem to which it is the solution," stated Wyden, speaking from the floor of the Senate earlier this week.
Senator Al Franken (D-Minn.) has also voiced his deep concerns about the White House-backed cybersecurity bill.
"As written, the legislation moves aside decades of privacy laws to allow companies to freely monitor American citizens' communications and give their personal information to the federal government — and grants companies near total immunity for doing so. While there's no question that we have to better protect ourselves from cybersecurity threats, that doesn't have to come at the expense of American citizens' civil liberties," stated Franken, as reported by The Hill.
"As a Latina mother and entrepreneur, I am deeply disturbed that President Obama is supporting the Senate version of CISPA. I don't think his team of advisers really understand that among Hispanics invading the private sanctuary of the home and one's personal communication is deeply offensive. Tell Hispanics that President Obama wants to allow U.S. companies to spy on Americans, and I predict his approval ratings will plummet," stated Castillo-Bach.
UmeNow encourages everyone to contact President Obama today. Visit the White House page online for links on how to call, write, or send emails directly to the President. "People need to send President Obama a simple message: "Outlaw Cybersecurity Bills that Spy on Americans." That's what he needs to do. It's that simple," stated Castillo-Bach.
Company Information:
UmeNow has banned all tracking and all ads. It has a 2-tier membership structure. Anyone may join for free. Premium level members who subscribe for $6.00/ month gain access to all site areas. Corporations and not-for-profit organizations requiring large scale membership plans should contact: admin(at)umenow(dot)com
Features include:
Multiple Walls for friends, families, colleagues and groups.
Private photo gallery.
Love-n-Likes section where members share with each other without friending.
Blog section that permits posting anonymously, with a real name, or a pseudonym.
Option to share blogs with the whole world or friends only.
Ability to edit or delete anything posted, at anytime.
Simple and clear privacy settings.
When something is deleted, the company deletes it forever.
Zero tolerance for cyberbullying.
Zero tolerance for data mining and data brokers.
Zero tolerance for tracking, face recognition technology, and other spy tools.
Evelyn Castillo-Bach is the founder of UmeNow and Collegiate Nation. UmeNow entered into its silent launch in July 2011. Collegiate Nation--also known as GoCNCN.com-- is the first and only private network exclusively for college students. Castillo-Bach was interviewed earlier this year by Miami television to address privacy issues impacting college students.
Both UmeNow.com and Collegiate Nation are known for fiercely protecting the privacy rights of its members. All ads, third party apps and games are banned because they are back doors to tracking and extracting private information. Castillo-Bach earned her M.S. in 1993 from Columbia University Graduate School of Journalism. She has traveled extensively in Ethiopia and in the Balkans, accompanying her Danish husband who is a lawyer.