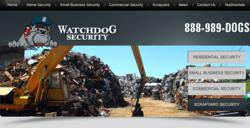 Southfield, MI (PRWEB) May 30, 2012
With a newly redesigned website, a successful appearance at the 2012 ISRI Convention and Exposition in Las Vegas, and an ever-growing roster of satisfied clients, the first half of 2012 has been kind to Watchdog Security. As one of the leading providers of home and commercial security systems in Michigan, and a national pioneer in the scrapyard security industry, Watchdog Security combines cutting edge advances in security solution technology with the personalized touch that has given customers comfort and peace of mind for more than a decade.
Last month, Watchdog Security unveiled its brand new website, watchdogmi.com, to offer an expansive view of its unique home, small business, commercial, and scrapyard security solutions. The site highlights the future of alarm technology, like Watchdog's line of Total Connect Mobile Control systems, and its state of the art Virtual Guard scrapyard security system. Total Connect allows customers to control and monitor the security on their property with ease from any smartphone, while Virtual Guard combines high definition video surveillance and monitoring to totally secure any business or commercial venture -- large or small. Watchdog Security has been especially successful outfitting and protecting over 80 scrapyards across the country with Virtual Guard.
Watchdog Security also made its annual appearance at this year's ISRI Convention in Las Vegas last month, joining more than 6,000 scrap and recycling professionals from over 45 countries. Watchdog's unique Virtual Guard security solution has propelled them to the forefront of the scrapyard security industry.
For a full ISRI recap, as well as a look at the residential, small business, commerical, and scrapyard security solutions available now from Watchdog Security, visit the company's brand new website at watchdogmi.com.