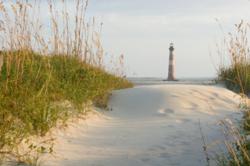 Charleston, SC (PRWEB) May 24, 2012
Run for the shade, slather on extra sunscreen and wrap up the kids Friday to avoid the sizzle of sunburn. May 25 is national Don't Fry Day, which was established by the National Council on Skin Cancer Prevention(NCSCP) to begin the summer with sun safety awareness.
The pools are open and the beaches throughout the Lowcountry will be packed with thousands of visitors this weekend. While many people take some kind of precaution, but no single step can fully protect a person from overexposure to UV radiation.
Each year there are more new cases of skin cancer than the combined incidence of cancers of the breast, prostate, lung and colon according to the NCSCP which is why Roper St. Francis is helping spread their message to the Lowcountry by recommending the following:
Take a personal pledge and ask your family to pledge to participate in Don't Fry Day. Don't fry, don't burn, and don't tan. Staying in the sun until skin turns red means skin could be very severely damaged.

Seek shade
Wear sun-protective clothing
Generously apply sunscreen
Protect eyes from UV radiation too- extended exposure to UV radiation can harm eyes and affect vision.
Check out the Lowcountry's UV index before heading out at http://epa.gov/sunwise/uvindex.html
Skin cancer is on the rise in the United States, and the American Cancer Society estimates that one American dies every hour from skin cancer. Fortunately, skin cancer is highly curable if found early and can be prevented. The way to detect skin cancer early is to examine skin regularly and recognize changes in moles and skin growths and to see a doctor if anything seems unusual.
Roper St. Francis Healthcare is proud to be the medical services provider of the 2012 PGA!
About the National Council on Skin Cancer Prevention
The National Council on Skin Cancer Prevention is a united voice to reduce skin cancer incidence, morbidity, and mortality, through awareness, prevention, early detection, research, and advocacy. http://www.skincancerprevention.org/
The Roper St. Francis Healthcare Mission:
Healing All People with Compassion, Faith and Excellence
Roper St. Francis Healthcare is the South Carolina Lowcountry's only private, not-for-profit healthcare system. The 657-bed system consists of 100 facilities and services in nine counties. Member hospitals include Roper Hospital, Bon Secours St. Francis Hospital, Mount Pleasant Hospital and Roper Rehabilitation Hospital. Roper St. Francis Physician Partners is a comprehensive network of more than 180 physicians that covers a complete range of primary care and 20 subspecialties. With more than 5,300 employees, RSFH is Charleston's largest private employer. Ranked No. 41 among the Top 100 Integrated Health Networks in the nation, Roper St. Francis Healthcare annually earns numerous national awards recognizing high levels of patient, physician and employee satisfaction. For more information on RSFH, go to http://www.rsfh.com.