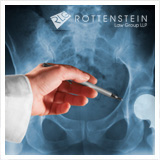 New York, NY (PRWEB) May 31, 2012
The Rottenstein Law Group has learned that DePuy is sponsoring the publication of a booklet titled, "Had I Known Then," prepared by author Ellyn Spragins and including letters from joint replacement recipients—among them DePuy-compensated actress Jane Kaczmarek—to their younger selves. These letters are reportedly intended to "provide… insight on the physical and emotional toll of osteoarthritis and the… impact joint replacement has on a person's health, well-being and enjoyment of life."
The Rottenstein Law Group believes that the publication was likely prompted by DePuy's current ongoing legal problems stemming from the widespread premature failures of its ASR and Pinnacle hip replacement implant systems. Most recently, a study published in the British Medical Journal argued that "hundreds of thousands of patients around the world may have been exposed to toxic substances after being implanted with poorly regulated and potentially dangerous hip devices." The article specifically identified as problematic DePuy's metal-on-metal hip replacement devices.
The first trials of lawsuits brought by plaintiffs alleging harm caused by DePuy ASR hip replacement devices are expected to begin this year. All federal suits involving the ASR are currently consolidated for pre-trial purposes as case no. 1:10-md-02197 in the United States District Court for the Northern District of Ohio.
Rochelle Rottenstein, principal of the Rottenstein Law Group, says, "We implore anyone with a friend or relative who has received a hip replacement device since 2003 to reach out to that person and recommend that he or she consult a physician immediately and then speak to a qualified personal injury lawyer."
The Rottenstein Law Group maintains a DePuy Hip Replacement Lawsuit Information Site at http://www.depuyhipreplacementlawsuit.com. The site has features that allow for easy sharing, including links for automatic posting on Facebook and Twitter, specifically to enable visitors to spread the word about the DePuy ASR recall.
About THE ROTTENSTEIN LAW GROUP
The Rottenstein Law Group is a New York-based law firm that represents clients in mass tort actions. The firm was founded by Rochelle Rottenstein, who has more than two decades of experience as a lawyer, to represent clients hurt by defective medical devices.
Contact:
The Rottenstein Law Group, LLP
Rochelle Rottenstein, Esq.
1259 Veeder Drive
Hewlett NY 11557
(212) 933-9500 (office phone)
(212) 933-9980 (facsimile)
rochelle(at)rotlaw(dot)com
http://www.rotlaw.com
###