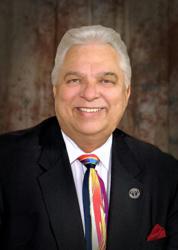 If it's not true, don't say it. If it's not right, don't do it.
Las Vegas, NV (PRWEB) May 24, 2012
Las Vegas based health and wellness company, Healthy Habits, has officially announced the appointment of Everett Hale as the new Chief Executive Officer.
Mr. Hale has over forty years of domestic and international business experience as well as undergraduate degrees in both economics and accounting. In a recent interview Mr. Hale told interviewers that he is driven by a passion to bring the world relief from both physical and emotional suffering through natural nutritional body healing and a rebirth of entrepreneurism.
As the new CEO of Healthy Habits, Mr. Hale will be focused on pertinent issues that affect the future of Healthy Habits Independent Business Owners — those who have accepted the mantle of integrity, trust and honesty in sharing health and wellness with the world, one person at a time.
"If it's not true, don't say it. If it's not right, don't do it." said Mr. Hale in a recent interview.
Before becoming the new CEO of Healthy Habits, Mr. Hale founded and served as CEO of three substantial direct sales companies, including Global Health Trax, which has a database of over 300,000 customers. His hands-on executive management style of empowerment, natural high energy and personal charisma was immediately recognized by the owners of Healthy Habits. These characteristics as well as the blended with an ability to generate respect from sales leaders and corporate peers alike, has made Healthy Habits confident in their choice.
"We are indeed fortunate to have Everett aboard to take Healthy Habits into the world of success," said Healthy Habits founder, Dr. Thomas Stone.
In addition to Mr. Hale beginning his duties as CEO during the month of May, Healthy Habits will also be launching a new compensation plan and new tools to help insure the success of the company distributor teams.
About the Company
Healthy Habits is a 'cross-over' company providing scalar energy products to enhance the lives of everyone. Through proprietary technology, Healthy Habits is able to embed their frequencies into many different products to enrich the lives of everyone.
Healthy Habits mission is to make available cutting edge nanotechnology Scalar Energy products and Scalar Enhanced whole food supplements that enable the Human Body to use its natural ability to raise its energy level.