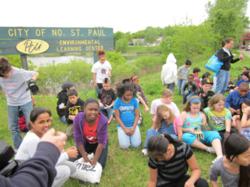 Woodbury, Minnesota (PRWEB) May 29, 2012
What's it like to get out of class on a beautiful Friday afternoon and pick up trash? Fourth grade students from Richardson Elementary School in North St. Paul, Minnesota can tell you. On Friday, May 11, approximately 80 students from got a hands-on opportunity to learn the importance of caring for the environment during the annual clean-up of the PCU (Postal Credit Union) Environmental Learning Center, located just to the west of PCU's North St. Paul branch. Students collected 70 bags of garbage during the event and properly disposed of them in dumpsters provided by the city.
This is the 8th year PCU has coordinated clean-up of the site since partnering with the city in 2003 to sponsor the ELC, an important part of the area's watershed district and home to many native species of plants and wildlife. The clean-up provides students with an important service learning project and is part of their science and environmental studies curriculum.
Founded in 1926, PCU is a member-owned financial institution offering a complete range of services, including 24/7 loan approval, mortgages, online banking, online deposits, checking, business services, investment services and more. PCU is proud to serve Anoka, Chisago, Dakota, Hennepin, Ramsey and Washington counties, with offices in Eagan, Hugo, North St. Paul, West St. Paul and Woodbury. For more information, contact PCU at 651-770-7000, 800-247-0857 or visit http://www.postalcu.org.