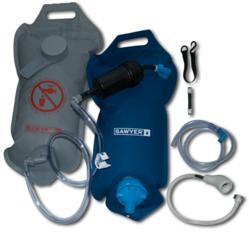 The draw to Sawyer filters is from portability, affordability, and the guarantee of up to a million gallons of clean water on most filters
Destin, FL (PRWEB) May 25, 2012
Disaster Relief Supply, a leading emergency preparedness retailer, recently added Sawyer water filters to its already vast inventory of disaster products. Sawyer filters were recommended by a customer specializing in humanitarian work, who had suggested an alternative to the katadyn line already carried in the store and on the website.
Since opening in November 2011, Disaster Relief Supply has been building a strong reputation as "one-stop shopping for emergency and disaster preparation". With that reputation comes an expectation from customers to carry a unique set of products to fit any scenario, whether hurricanes, fires, or biological warfare. Until recently, Katadyn has been the main brand of water filtration products carried by DRSupply. "The Katadyn products are great, they sell well, and customers are very satisfied with them. We just figured it was time to expand our selection to a different kind of filter," Says Mike Fisher, General Manager of DRSupply.
Sawyer filters have been around since 1984, and since have made a name for themselves as top quality water filters, with some of the higher-end models being able to "filter contaminated water to levels cleaner than U.S. bottled water" according to the Sawyer website. The draw to Sawyer filters is from portability, affordability, and the guarantee of up to a million gallons of clean water on most filters.
As Disaster Relief Supply continues to grow, customers can expect to see more exciting products both in the store, and online on the e-commerce site.