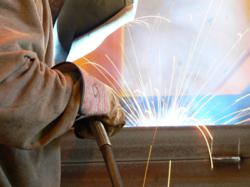 Kemper's OSHA compliant products are designed to remove welding smoke and other pollutants from the workplace to keep workers safe.
(PRWEB) May 29, 2012
Kemper America, an industry leading supplier of welding exhaust systems recently launched a new website to enhance their web presence so customers can easily find the company and its products online. Since its founding in 1977, Kemper welding fume extraction systems have been keeping welders and other worker safe from the dangerous chemicals in welding smoke. The new website features a comprehensive product catalog that provides details on all of company's welding smoke removal products, including pricing and technical data. Kemper America's welding fume safety products meet, or exceed, OSHA quality standards. When installed they vastly improve air quality in the workplace.
Welding smoke, gases, and fumes contain chemicals such as chromium, manganese, and cadmium. These chemicals pollute the air and can impact the health of workers who breathe the fumes. Routine exposure to welding smoke and fumes can cause serious illnesses such as bronchitis, edema (fluid in the lungs), emphysema, and many types of cancers. Kemper's OSHA compliant products are designed to remove welding smoke and other pollutants from the workplace to keep workers safe. Companies looking for solutions to air pollution by welding activities can use the website to find the right equipment for their particular operations.
The new website was designed with the user in mind. It enables visitors to research Kemper America's unique line of fume extractor products including welding exhaust arms, exhaust fans, fume hoods, cutting and welding tables, welding booths, welding curtains, and filter units. In addition, the website's catalog provides a complete list of accessories for Kemper welding exhaust products to keep them operating at peak performance. Accessories, such as replacement filter for Kemper air filtration systems, can be easily found on the website.
Kemper America's President, Ben Howell, commented on the new website. "Our new website provides our customers with the ability to easily review our line of welding safety products and find just what they are looking for in the line of welding exhaust systems. It has our products organized by category and then by specific product listing. Each product has a product description, pricing, technical specifications, photos and a list of available accessories. If a product is available for rent, the product listing provides the rental prices for both short and long term rentals. We are very excited to have the new website up and running. It [the website] will help people looking for welding fumes solutions to find Kemper America when searching the web for the best welding exhaust products."
Kemper America is a leading supplier of welding exhaust products and custom solutions for welding smoke removal and personal safety. Kemper America is dedicated to providing OSHA standard quality products to welders to prevent health risks from smoke inhalation and protection from welding heat, IR/UV rays and welding spatter. Kemper America is located at 5910 Shiloh Road East, Suite 114, Alpharetta, GA 30005. The company can be reached by email and toll free: 1-800-756-5367. Website and online web marketing is provided by Atlanta SEO Company, Interactive Search Marketing.